All weekend
There are a number of events which are on over the course of the weekend; both on Saturday and Sunday. In fact, whatever you like to do, there's something for everyone on this weekend….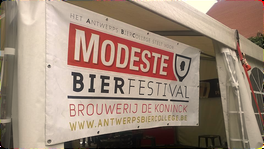 For beer lovers: The Modeste Beer Festival 2018 is free and takes place for the 8th time over at the de Koninck brewery on Saturday and Sunday, from 11am -7pm. Over 25 small brewers will be present at the festival, offering tastings for a euro each (+ 3 euros for glass hire)
For fashion lovers: Antwerp Fashion Weekend is always fun. Check the program
for fashion related events, shows and promos in various stores around the city. Key areas to check out include: Meir, Grand Bazar, Kammenstraat, Nationalestraat & Kloosterstraat.

For foodies: Smaakmeesters 2018 The old town, Eilandje and the Zuid are the key areas for this festival of food, which has an extensive program (see the Smaakmeesters link) of markets, activities, food orientated guided walks and exhibitions
For shoppers: Weekend van de Klant means lots of promos and offers in participating stores (this coincides with Antwerp Fashion Weekend)
For party people: The re-opening of Plein Publiek (new location). This restaurant/ bar/ night venue was previously in the Sint Andries area, in the center of the 'Fierensblokken' and hosted a variety of events. It's relocating to D'Herbouvillekaai 19 (just south of the Kaaien) and the opening festivities will take place over Friday, Saturday and Sunday.


Friday
Head to the Brederodefeesten for this weekend's Saturday street party

Saturday
Sint Andries Harvest Festival is a new event on Sint Andriesplaats -a relaxed, community-focused square near the Kloosterstraat and Nationalestraat. From 1pm there will be music, drink, snack food and a bouncy castle for kids.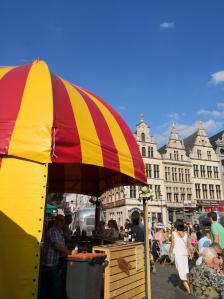 Swan Market on Grote Markt
Sunday
Swan Market is on Grote Markt from 11- 6pm today, with its usual offering of stalls selling products such as jewellery, stationery, accessories, and hand-made goods. There's also always food, drink and a kids' area.
If that's not enough consumerism for you, then -being the first Sunday of the month – it's also Shopping Sunday in Antwerp (this coincides with Antwerp Fashion Weekend).
The weather looks like it will be pleasant and dry this weekend (especially on Friday and Saturday, but remaining mild for Sunday too).
Miscellaneous
Think Pink's "Race For The Cure" last weekend was a busy and lively event. There was a multi-generational effort from my family (my mum, myself and my son) who crossed the finish line.  Congratulations to all who ran. If you'd like to donate to this great cause click here to make a contribution.
If you would like to get involved with BATS VZW -Antwerp's English speaking theater group, now might be the time! BATS do a panto every year in January. This year it's Snow White and the Seven Dwarves, and auditions take place soon.
I'll be away this week in London. If you'd like to follow via Instagram, check out the hashtag #nessascityblogLondon Next week's Antwerp post will be a brief round-up, as I won't be here, or have much time on my hands, as I will be hoofing it round some London galleries supervising an Arts trip.
Find & Follow

Facebook (Events in Antwerp: in conjunction with London Calling)
Twitter & Pinterest & Instagram