Thursday 31st is Hallowe'en of course – for Hallowe'en fun you will find plenty going on at Antwerp's Irish bars, all of which like to celebrate this date, with drinks promos & games, dress-up parties and quizzes.
The Antwerpen Boekenbeurs 2019 is underway in Antwerp Expo and continues over the weekend. This is a vast bookfair whose history stretches back to 1932. Most books are in Dutch, but there are stands with English and French books.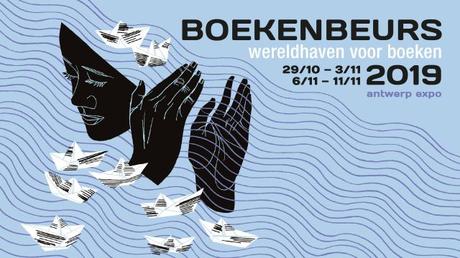 Dia De Los Meurtos (Mexican Day of The Dead) is also marked here in Antwerp: last weekend I went to see the beautiful altars on display in MAS museum, and this weekend parts of that exhibition move to Permeke Library. You can see the programme here.
Friday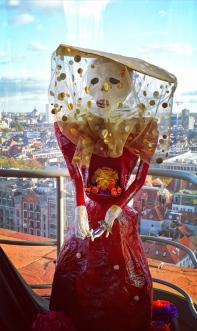 Day of the Dead in Antwerp
Friday is a public holiday in Belgium (All Saints Day) so most shops will be closed, but Goegekregen are holding a holiday Rommelmarkt on Theaterplein.
For kids interested in Day of The Dead festivities there is a programme of events at Zuiderpershuis for children from midday until 5pm. This costs 5 euros (family discounts available) and there are workshops, make-up, snacks and activities throughout the afternoon.
In the afternoon/ evening (3pm-8pm) it's the last chance to catch Dokmarkt at Eilandje for this year.
Saturday
If you are interested in trying vegan food and products, or would like to get information about including less meat, fish and dairy in your diet, the health-food shop Natuurhuis on Otto Veniusstraat are holding an in-store info day in conjunction with Try Vegan and EVA, from 10am -4pm.
Look out for the Royal British Legion selling poppies on Meir between 11am- 4pm. Poppies are worn annually as an act of remembrance of those who have lost their lives in conflicts around the world and those who have been killed as a result of terrorism. Additionally the poppy represents the contribution of families and of the emergency services.
Sunday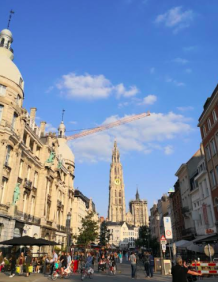 Antwerp Cathedral seen from Suikerrui
On the first Sunday of the month you can hear music for free in the Cathedral at 4pm. NB: it's only free for locals, or kids aged 0-11, so bring your ID to show that you are an Antwerp resident, otherwise it's the same price as the usual entry cost to the Cathedral (6 euros; 4 euros concession).
It's the first Sunday of the month, so shops are open from midday on various Antwerp shopping streets.
Weather is not looking great this weekend -bring an umbrella with you, as rain is expected on and off over the whole weekend. It's not going to be very warm either, with top temperatures of around 13- 14 degrees.
Miscellaneous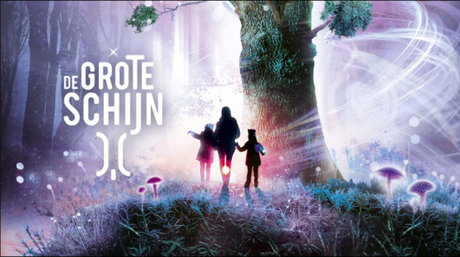 De Grote Schijn takes place each evening until 11th November (ticketed) – it's a special route through the Rivierenhof which sees the estate transformed into a magical fantasy land of light and color. The route is about 2km long and you can walk through it at your own pace enjoying the spectacle. Tickets via the link.
Look out for a special Nessascityblog post on Monday – a picture post featuring photos taken by people who have come from all over the world to live in Antwerp.
Find & Follow #nessascityblog
ON: Facebook (Events in Antwerp)
Email: [email protected]
& check out #nessascityblog on Twitter & Pinterest & Instagram
View this post on Instagram

#diadelosmuertos at @masantwerpen #masantwerpen #dayofthedead #masmuseum #mexico #mexicandayofthedead #antwerp #sugarskull #thisisantwerp #visitantwerp #antwerpen #stadantwerpen #discoverantwerp #instantwerpen #vierkantwerpen #Belgium #antwerptoday #antwerpphoto #nessascityblog Nessascityblog.com

A post shared by Vanessa McC (@nessascityblog) on Oct 27, 2019 at 11:20am PDT