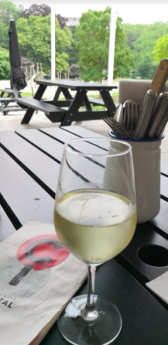 Cafe Capital, Stadspark
Friday
Café Capital in Stadspark are starting the weekend with a fundraiser night to help wildlife organisations currently working to save animals affected by the fires in Australia, and also organisations which are fighting the fires. Sister events will be held in other cities in Europe and beyond.
Celebrate the birthday of Art itself at MUHKA's Art's Birthday event from 5pm. This is the 12th year that this has been marked in Antwerp; it was established in 1963 by the artist Robert Filliou: "Filliou first proposed "Art's Birthday" in 1963. He suggested that 1,000,000 years ago, there was no art. But one day, on January 17 to be precise, Art was born. Filliou says it happened when someone dropped a dry sponge into a bucket of water. He also proposed a public holiday to celebrate the presence of art in our lives. Art's Birthday was first publicly celebrated in 1973 in Aachen (i.e., Aix-la-Chapelle), Germany and at the same time in Paris, France." (from Wikipedia)
At the Irish Times Bar it's Swap Language Night and a chance to brush up your language skills for aspiring polyglots -from 8pm.
Saturday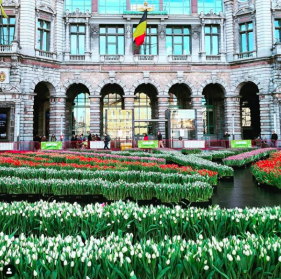 On Astridplein there's the chance to go tulip picking from 1pm – 4.30. The tulips on Astridplein looked beautiful last year (pic left), but you might have to be prepared to queue a bit to pick your own bunch.
It's free movie night again at Het Roze Huis (Den Draak) at 8pm. This evening it's Loving Annabelle. If you are new and not familiar with Het Roze Huis -it's your first port-of-call for all things LGBTQ+ in Antwerp.
Sunday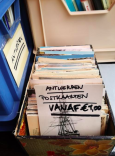 It's the monthly second hand book market on de Coninckplein in front of the Permeke Library. Books, comics, graphic novels, postcards and more for very reasonable prices. 10am -4pm.
It should be dry this weekend – with the possibility of light showers on Friday afternoon. There could be some bright spells, but it's going to be quite cold with top temps of 11 degrees on Friday, and 8 degrees on Saturday and Sunday.
Miscellaneous

image from: Legends of Liondance Facebook page 
Don't forget to book your tickets to the annual BATS panto, which takes place this weekend: Sleeping Beauty? (pic below, from BATS website) Tickets via the BATS website.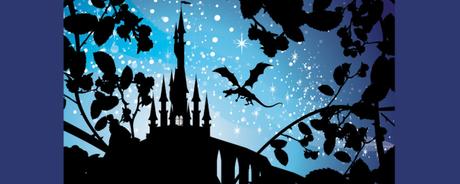 Need a productive, achievable new year's resolution that doesn't involve giving up something you enjoy? Let 2020 be the year you write your Antwerp story for Nessascityblog! Please get in touch with your idea. I'd love to have more guest posts, reviews, tips, personal stories and accounts connected to the city of Antwerp.
Find & Follow #nessascityblog
ON: Facebook (Events in Antwerp)
Email: [email protected]
& check out #nessascityblog on Twitter & Pinterest & Instagram
View this post on Instagram

Weekly #blog posts are back for 2020 so if you are coming to #antwerpcity this #weekend see #nessascityblog tomorrow for ideas and information in #English about #whatson #thisisantwerp #visitantwerp #antwerpen #stadantwerpen #discoverantwerp #antwerpblogger #antwerpblog #vierkantwerpen #instantwerpen #atypicalantwerp #atypischantwerpen #anversa #amberes #nmbs #sncb #railwaycathedral #centraalstationantwerpen #antwerpcentralstation

A post shared by Vanessa McC (@nessascityblog) on Jan 14, 2020 at 11:05pm PST