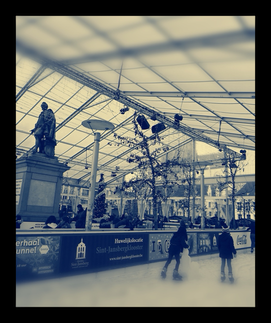 skating on Groenplaats
The Winter In Antwerp season has started, bringing you winter warmers and festive cheer at various locations around the city, until the 6th January. If you have been in Antwerp for over a year, you will be familiar with the regular features of Winter In Antwerp, and will recognize many of them again this year, in their usual locations: skating on Grote Markt; the Christmas Market on Grotemarkt, Suikerrui and Steenplein; The Big Christmas Wheel also on Steenplein, and the Winterbar on Groenplaats. This year the tubing (2 euros a ride) will be at a new venue: Astridplein. If you have kids, then the Spiegeltent and kids' corner might be best for you -on Steenplein. The funfair stalls will be along the riverside as usual.
On the other side of the water, there's Club Cabane Winter Edition, also with Christmas food & drink, a skating rink and a Christmas Market.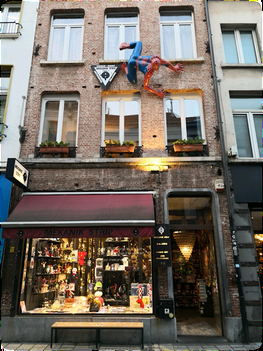 Mekanik
Saturday
From 11-6pm at Mekanik store there is a Christmas sale of graphic artworks and illustrations by local graphic artists. Mekanik is Antwerp's best-known store for . graphic novels, graphic series, animé, comics & more.
SNITT are at CostA on Sint Andriesplaats with a sale of second hand and vintage clothing from 11am- 4pm. This is part of the "Krijg de Klere" event:
Krijg de Klere is an event which asks questions about the textile industry and its impact. There will be activities which encourage and support a more environmentally friendly way of living, and of re-using what we already have. Come dressed in your favorite second-hand clothes, and take part in workshops run by MoMU, a repair café run by Circuit Antwerpen, a speakers' corner and more (music; drinks; food).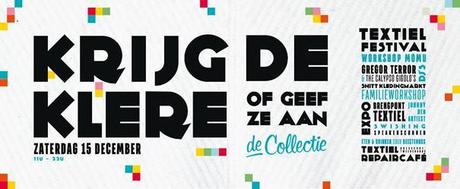 At Het Roze Huis on Draakplaats, it's a free film night, starting at 8pm and this month showing I Love You Phillip Norris.  Het Roze Huis holds free film nights on the third Saturday of every month.
Or if you'd like to be the star of the show (or even behind the scenes) head to BATS Little Theatre on Paardenmarkt from 8.30pm to find out more about English speaking theater in Antwerp, at their Winter Wonderland Open Evening -also a great chance to find out about their upcoming panto: Snow White and the Seven Dwarves in January 2019.
If you are ready for a full-on Christmas service with a Cathedral choir, then head to St Walburgiskerk at 8pm and enjoy the singers of the Portsmouth Cathedral Choir at this Christmas Concert. It's free, but if you are certain you will be attending, you can reserve a place via this link.

Sunday
Regular book-lovers' secondhand market on de Coninckplein in front of the library from 10am: books, comics, etc and (if you are in that area with children) in the Permeke itself, it's the read-aloud story hour in the library at 11 (free) for kids aged 4-8 (in Dutch).

More secondhand goodies in the Parkloods, courtesy of Goegekregen and the Christmas edition of their successful secondhand, retro and vintage markets. Free in, from 9am -6pm.
For shoppers -the shops are open in Antwerp on Sundays throughout December.

Alas, it looks likely to be rainy again this weekend, particularly on Saturday and Sunday, and temperatures slightly colder than last weekend -down to 2 degrees on Friday; up to 6-8 degrees over Saturday and Sunday.
Miscellaneous
Two recent special posts: this guest post all about an Italian home-run business called Whisk & Scoop. Have a look if you haven't read it yet: it's a must for lovers of authentic Italian food.

… and the previous week Nessascityblog also had a guestblog post: a super-handy A-Z of LGBT Antwerp, listing bars, clubs, festivals, community groups and more -by Timothy Junes of Be Out.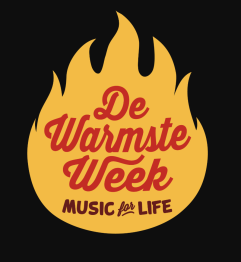 De Warmste Week
De Warmste Week (The Warmest Week) is an annual week of fundraising and charity events taking place across Flanders. If you wish to organize an event or activity you can do so and register it via the website. For more fundraising events, look for the Warmste Week logo (left). Charity runs are a big part of De Warmste Week and you can now register for the Antwerp Run which takes place on the 21st December. The first step is to pick the cause you would like to run and raise money for. You can do this as a group or an individual, and will need to be able to make a minimum donation of 15 euros when you register to participate.
If you are looking for carol services in English (also beyond Antwerp) this is a very helpful link from Discovering Belgium blog
Find & Follow Nessascityblog

ON: Facebook (Events in Antwerp: in conjunction with London Calling)
Twitter & Pinterest & Instagram