Friday
If you've wandered through Sint Jansplein recently you will have noticed the building of a large wooden construction. This is the work of Timecircus -the artists' collective, resident at Permeke Library. It's called Labrint and will be opening on Friday at 2pm.

Labrint
Friday will be a big day if you are Red Devils fan: Belgium play Wales so here's a reminder of places round town you might like to go share the excitement by watching the game on a big screen: Spoor Oost, Cargo Summer Bar, Plein Publiek, Dageraadplaats and Gedempte Zuiderdokken.
Drama queens & kings, NB: BATS won't be having their monthly opening evening this month. The next one is in September.
And the mother of all Antwerp summer bars, courtesy of Zomer van Antwerpen, is now open on Sloepenweg. Best way to get there is by bike, cycling along the river in a northerly direction -you can't miss it. It's a lovely spacious venue, with a reading area and plenty of sand and playground space for kids.
The Open Air Theater in Rivierenhof has now begin its summer program. You can find tickets for paying events on its website, but there are some free events too such as this one for younger audiences at 1, and a free world music concert at 8pm.
Saturday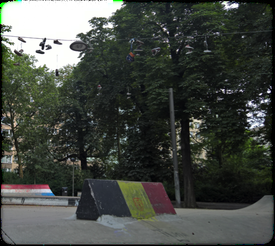 The Skatepark in Stadspark
There's an Urban BMX event in Stadspark throughout the afternoon. If you want to compete, be there at midday (at the skatepark).
Antwerp's very own Farmers' Market, MARTA, will be on the Kattendijkdok from 9am – 4pm. This is a regular even, on the first Saturday of each month.
And KAVKA is opening its very own summer bar- Bar Cour– described as a 'green oasis in the heart of the city'. This is a very nice little venue (and youth centre), with a strong eco slant, and the courtyard is a real sun-trap on warm days.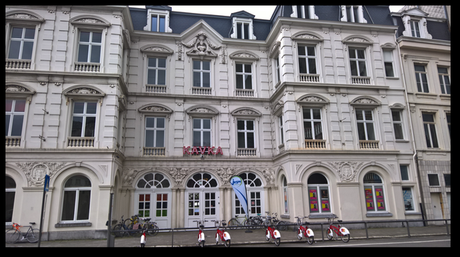 KAVKA on Oudaan
Sunday
It's the first Sunday of the month, so ….Sunday shopping.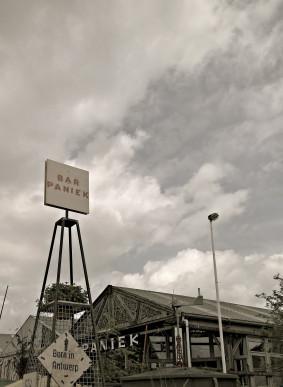 Bar Paniek & Born in Antwerp are on the Kattendijkdok
For more specifically design -orientated items, there is a Design Market at Kattendijkdok from 11am.
… or a more general second hand market from Goegekregen in the Stadspark from 9am.
Down at Bocadero there is a free Spanish Festival promising music, dance, Flamenco, orchestras, tapas & drinks. It's free entrance and starts at 1pm and goes on until late.
Warm temperatures are predicted, with light rain on Friday and Saturday. Sunday is to be dry and cloudy.
Miscellaneous
For directions to all events mentioned in this weekend's post, check the Google map.
New Instagram pics from the past week include Bierpassie, Mechelsepleinfeesten, Cargo Zomerbar and a really cute zebra baby. Because who couldn't use a cute zebra pic just now?
July 7- 10th, it's Tall Ships. The sight of the tall ships in the harbor is always impressive. There is usually a ship that you can board and have a look around. It's a good family day out.