Over the whole weekend Bollekesfeest will be taking place (4-day beer festival, plus local food products) started on Thursday evening at Steenplein, Groenplaats, Suikerui and Grote Markt. This is fast becoming a very important and enjoyable annual fixture on the Antwerp calendar, even though the event only began in 2007 (so 2016 is the 10th edition!). Great fun, also for kids, with activities and entertainment for younger ones on the Steenplein part of the festival. Buy the Gazet van Antwerpen on Thursday, Friday & Saturday and you will find a voucher for a free beer. (pic courtesy of Stephanie Hughes. Grote Markt image by Daniel Ruiz-Ceccenello).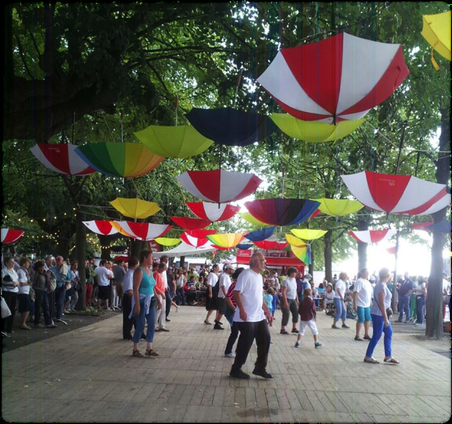 Dancing on Steenplein at Bollekesfeest
Friday
The Redball Project is a public art event that has traveled through 25 cities around the world and comes to Antwerp Central Station today. I can't tell you much more about it at the moment; you need to sign up via email to receive info/ notification.
*UPDATE:  #redballproject will be at the market/ Het Paleis on Saturday and at MAS on Sunday.
On Friday evening at 5pm the Repair Café returns to 'T Werkhuys in Borgerhout. Bring your broken items (e.g. clothes, furniture, tech) and maybe they can be fixed for free, or if you like fixing things, you might be able to help someone else. There's also going to be a share market -bring things to give away that you no longer want. If you take part you will be able to pick three items from others who are doing the same.
Saturday
Here's one that's a bit different if you want an unusual alternative to Bollekesfeest …bat watching at Rivierenhof. Free, but reserve beforehand by email [email protected] or call 03 360 52 18. Starts at 7.30.
If you haven't checked out any of the movies showing as part of Cinema Urbana (Zomer van Antwerpen) Saturday might be a good time to do so: there's a showing of The Martian at Plantinkaai by the river. It's free and starts at 10pm.
Sunday
If you are enjoying Bollekesfeest (see above) but by Sunday are feeling the need to finish festivities at a more relaxed location, then the Wild Jo's Market might be the perfect destination. It's on Vrijdagmarkt which is a really pleasant, smaller square which can be found off Reyndersstraat or Hoogstraat, so it is just a walk away from the rest of the beer festival.
It's the third Sunday of the month so it's the Strip & Boekenplein (graphic novels/ book market) on De Coninckplein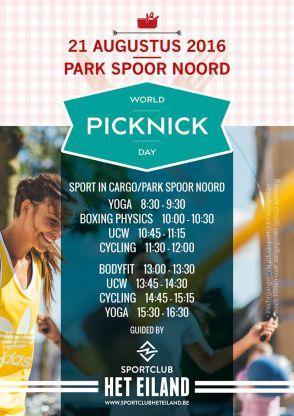 At Park Spoor Noord it's World Picknick Day. Bring your own picnic basket -there will also be snacks for sale, and some sports sessions provided by Sport Club Het Eiland.
(image courtesy of Sport Club Het Eiland)
From 4pm -7pm at Rivierenhof, it's Yoyogi again -an open performance opportunity for anyone who would like to come along and demonstrate their music, dance or performance skills, or to watch others. It's free and there are also various workshops (e.g. kungfu, acro-yoga, ropeskipping, tai chi).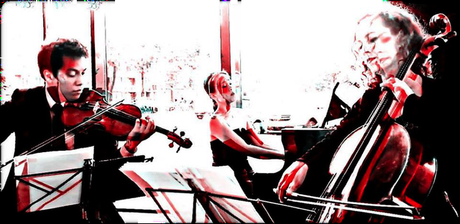 Colour Collective
Design Market Ieder Zenne Meug is taking place on the Kattendijkdok today from 11am -6pm and you could then stay put at the same location to round off your weekend with some classical music: this free concert by trio Colour Collective will also take place at Born In Antwerp (Kattendijkdok), starting at 7pm. It's recommended that you bring along a picnic blanket, camping chair or cushion to sit on. (image courtesy of Colour Collective)
… And the Redball will be at the Diamantpaviljoen, at MAS…
The weather should be pretty good for Friday with warm temperatures, although there might be showers in the evening. Alas, it's likely to be cloudier, and less predictable in general over the weekend, with the possibility of showers both days. Temperatures remain good for Saturday, but fall a bit on Sunday.
Miscellaneous
To help you find the places mentioned in this blog, check the Google map for this post.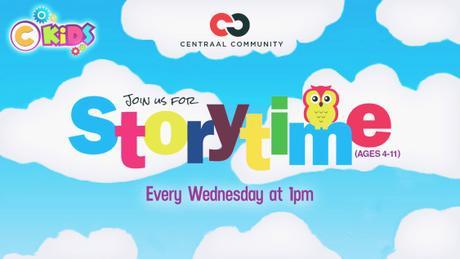 A heads-up on Story Time in English which will start September 14 and will take place every Wednesday from 1:00- 2:30pm, for children aged aged 4-11. Each week will have a different theme/story, and there will also be activities, music and snacks based around that theme. The cost is 5 euro and the max number of kids is 25. Contact Kay via the Facebook page to register your child in advance. Location: Centraal Cafe, Sint-Pietersvliet 11, Antwerp 2000 (Image courtesy of Central Collective)
Kids will also enjoy being taken to the summer edition of Sportopia in Park Loods (Park Spoor Noord). The winter version of this was good -my kids enjoyed it on more than one occasion, although it can get busy. It costs 6 euros per session, but is less than that if you have an A-Kaart and free to under 4s, or those with 10 points on their A-Kaart. Open 10- 6pm Wednesdays- Sundays. Finishing up soon (28th August).
Next Wednesday, being the last Wednesday of the month, District Antwerp museums are free.
And don't forget to find Nessascityblog on …

Instagram

         Pinterest

Twitter.