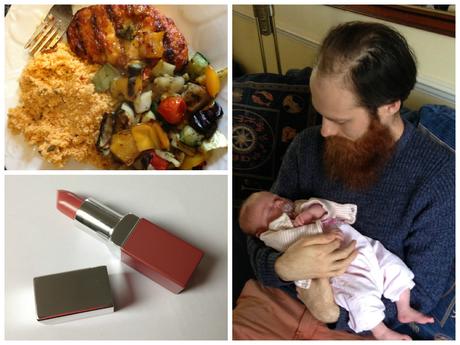 Life - It has been a mad week of visitors and getting out and about visiting people. Now Molly and I have got into a nice little routine it is nice to get out the house a bit.
My brother arrived from Portugal for a 3 week visit on Thursday and finally got to meet his niece in the flesh, he has completely fallen in love with her. I really do hope he moves back to England at some point as I can see Molly and him having a very special bond, my brother is basically a big kid.
Beauty - I have been trying lots of new products out this week and have even treated myself to a few. After reading so many reviews on the Clinique Lip Pop Lipsticks I decided to treat myself to one.
I picked up the shade Nude Pop which is a lovely pink nude shade. I've only had a chance to try it on quickly but it is really pigmented and feels buttery soft to apply, I have high hopes.
Food - I have had a whole week of using my Fitness Pal and getting back on the healthy eating band waggon and have managed to lose 6lbs!! I have never had such a

big l

oss in one go before, I am surprised how easy it has been to be honest. It seems a distraction of a newborn is great way to stop you from snacking.
I have discovered a love for cous cous this week and have had it most days with every type of meal going. My favorite way has been with chicken and Mediterranean vegetables, very delicious.
What have you been up to this week?