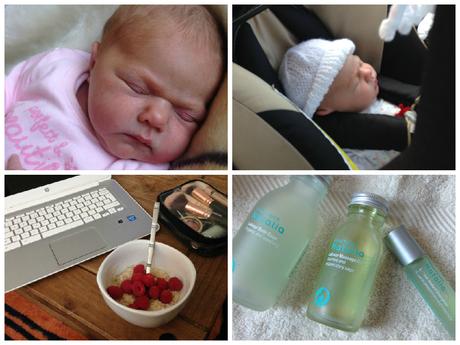 Life - As I am sure most of you know by now I gave birth to a beautiful baby girl on Good Friday. We called her Molly after my nan and she weighed 7.15lbs. She is just amazing. Everyone tells you how incredible it is to become a mother but you never really know until it happens.
She is 7 days old now and doing really well. Your first week is such a whirlwind of emotions, the first few days you are on such a high and then your hormones kick in and that's when the tears come. Overall I am feeling good though.
Food - Well remembering to eat has been the main thing this last week, I didn't think anything could make me not care when my next meal is. It really is a case of eating when you can and you soon get used to cold food and cups of tea.
The other half has been home all this week so has been making a good meal in the evening, I will seriously miss that when hes back at work next week.
Beauty - You may have read the posts I have about Vital Touch Natalia, they make natural and organic products for mums to be and babies. I was kindly sent a few products to try and I can tell you the Labour & Birth Box* was one of the best things I had in my hospital bag. (Well other than the big bar of Galaxy, hehe)
I used the Labour Bath Essence* several times at home when my contractions first started and it really helped to soothe me and just generally keep me feeling calm.
At the hospital I got my mom to rub the Labour Massage Oil* into my lower back as that was where most of the pain was and I definitely think it helped, even if it was just a distraction.
I also was rubbing in the Labour Instant Energiser to my pulse points to help keep me feeling a bit more alive.
All the products in the box were really useful and I plan to treat all my pregnant friends in the future to the box.
My blog posts will be a bit random for a little while until I get into more of a routine with little miss but I want to try and get a couple of posts up a week as I do love to write them.
I hope you all have had a good couple of weeks?


*PR Sample.