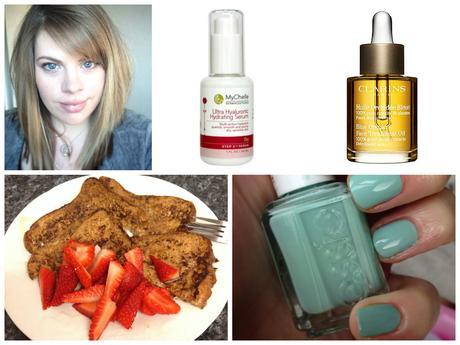 I love reading other peoples post's where they give a round up on what has been going on in their lives so I thought about starting something similar myself. I am not sure if its something I will stick too or if it will be a weekly thing but I will see how it goes.
Life - If you read my Haircare post you would know I got my haircut and I am loving the results. I am lucky that my best friend is my hairdresser and I completely trust her advice and work.
After she cut my hair we went for a bit of shopping then had lunch with my mum, it was the perfect girly day.
Food - I have been loving French Toast for breakfast this week, it is so quick and easy to make. It isn't the healthiest thing to have but hey, I am on maternity leave so enjoying the freedom of eating what I want before the healthy eating starts.
Beauty - This week has all been about hydrating skincare. My skin the last week or so has become a bit of sensitive, dehydrated mess. I have had to strip back to basics to try and heal the sore dry rash that seemed to have appeared. (I plan to do a post on what helped soon.)
A couple of products that I am seriously lusting after are the Clarins Blue Orchid Oil and MyChelle Ultra Hyaluronic Hydrating Serum. Both sound perfect for my currently very dehydrated skin.
On The Nails - I have been wearing Essie Mint Candy Apple the last few days, It has been such a long time since I cracked this shade out. The bright, spring weather inspired me to do so.
What have you been up too this week?