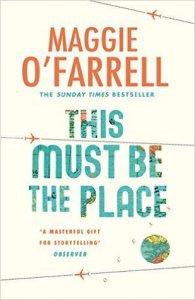 What's it all about?:
The dazzling new novel from bestselling, award-winning author Maggie O'Farrell, This Must be the Place crosses time zones and continents to reveal an extraordinary portrait of a marriage.
Meet Daniel Sullivan, a man with a complicated life. A New Yorker living in the wilds of Ireland, he has children he never sees in California, a father he loathes in Brooklyn and a wife, Claudette, who is a reclusive ex-film star given to shooting at anyone who ventures up their driveway.
He is also about to find out something about a woman he lost touch with twenty years ago, and this discovery will send him off-course, far away from wife and home. Will his love for Claudette be enough to bring him back?
Maggie O'Farrell's seventh novel is a dazzling, intimate epic about who we leave behind and who we become as we search for our place in the world.
What did I think?:
When I saw this new novel by Maggie O'Farrell on the Richard and Judy bookclub list for this summer I was thrilled. I've previously read and thoroughly enjoyed Instructions For A Heatwave and The Vanishing Act Of Esme Lennox by the author and have heard such great things about This Must Be The Place, as well as it being a strong contender for the Costa Award for Best Novel recently so I was highly anticipating a great read. What I got was exactly that but in entirely a different way than I had expected. It's told from a number of different points of views (MANY of them actually!) but this never in any way feels too much or affects the flow of the narrative. It's a real journey into the heart of a man's life and his relationships, both past and present between his family and his lovers.
The man we are talking about is Daniel Sullivan, whom when we first meet him is living in the remote Irish countryside with his wife Claudette, a reclusive film star, her son from a previous long term relationship (which comes with its own story and issues) and their two children together. Daniel has had quite a complicated life. Before Claudette, he was married and lived in America with his wife and two children from that relationship which ended quite acrimoniously and sadly, he has very little contact with the children now although he is attempting to change that. We also learn about his past when he was younger and had a relationship with a somewhat troubled and older woman, that had its own problems and led to him making decisions that he now regrets. It is because of this particular woman in his past that has led to him making another hasty, wobbly decision to get some answers about what exactly happened to her which unfortunately, threatens his marriage in the current time with Claudette and the tenuous relationship he currently has with the other members of his family.
If I could describe this novel in one word I think I would choose the word epic. It spans so many decades of Daniel's lives and involves such a multitude of characters that at times I can understand why it might feel quite overwhelming for some readers. Not for me, however. I loved finding out about all these different fractions of Daniel's life, how they pieced together and how he managed to resolve (or not resolve as the case may be) certain situations in his past and present. Daniel is a fantastic character, he's just so NORMAL with flaws and problems like everyone else but in his heart he is genuinely a good, loyal man and a great father that has had extraordinary bad luck with some of the paths he has chosen to take. It's not just Daniel, the other characters are wonderful too, especially Claudette whose fiesty nature I adored and even some minor characters that although they appear albeit very briefly, make a huge impact on the story and give some great insights into their own lives and of course our main character's i.e. Daniel's mother. This may be a slow burner of a novel but my goodness it is worth it. The beautiful writing, characterisation and plot development clearly shows how hard the author has worked on it and it's definitely one of her stand out pieces of work.
Would I recommend it?:
But of course!
Star rating (out of 5):

Advertisements