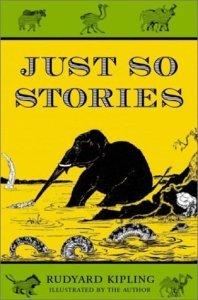 What's it all about?:
Twelve stories about animals, insects, and other subjects include How the Camel Got His Hump. The Butterfly That Stamped, and How the Alphabet Was Made.
What did I think?:
Apologies for the late posting of our kid-lit once again. Chrissi and I are so busy at the moment that we're struggling to find time to keep up to date with this but we're determined to finish our series this year. Interestingly, Just So Stories is I think, going to be quite a difficult book to review for us both. Let me start by saying that I really enjoyed (and continue to enjoy) Kipling's Jungle Book which is a classic of children's literature – much like Just So Stories. However, with some exceptions within this collection, I found myself skim reading some of the stories here and not enjoying them as much as I hoped I would have done. This is my second reading of the collection and a few stories were very familiar and enjoyable however, I couldn't recall the vast majority of them which made me wonder if I had skim read the others on the first reading, just like this second experience!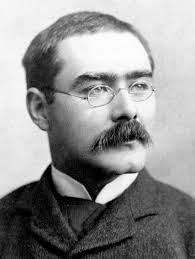 Rudyard Kipling, author of Just So Stories
I really do love the sentiment behind why Kipling developed this collection. The first few started out as bedtime stories for his daughter Effie who liked them told "just so" without changing sentences or missing out necessary information. It consists of mainly stories of how animals got to be the way they are today and in this collection, they were either changed by other animals, human beings or by magical entities. For example, the crocodile who was responsible for how the elephant got his trunk, the man who was responsible for the whale's throat (and in turn is the reason for why these huge creatures only eat small prey) and the djinn who gives the camel a hump as punishment for his refusal to work.
In practice, as a huge animal lover, this book sounds like a perfect read and to be honest, I do think the idea of how each animal evolved is entertaining and very charming. However, I just didn't connect with a few stories and the writing style didn't capture my attention and make me want to read on. I've read that in some editions of this book, Kipling has illustrated it himself and I feel that would have been an added bonus that I would have appreciated in the edition I read and may have even led to a slightly higher rating! However I have to be honest and just admit that the majority of this book probably wasn't for me. There are a few stand-out stories like the above mentioned tale about the elephant and one entitled The Cat That Walked By Himself which has always been a favorite of mine. Overall though, I just couldn't find enough enthusiasm to enjoy these tales as much as I'm sure the multitude of Kipling fans will.
For Chrissi's fabulous review, please see her post HERE.
Would I recommend it?:
Not sure.
Star rating (out of 5):

COMING UP IN NOVEMBER ON BETH AND CHRISSI DO KID-LIT – The Worst Witch by Jill Murphy