On February 13-15, the Philippine Travel Agencies Association (PTAA) is opening the much-awaited PTAA TravelTour Expo 2015. During its press launch, we asked our friends from the PTAA for the things to remember before going to a travel expo. Read more…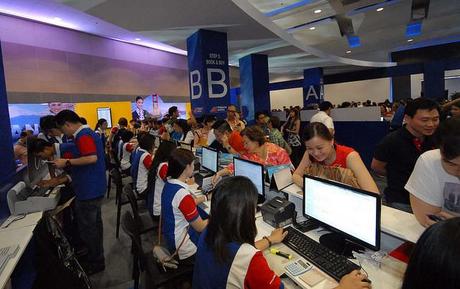 Photo credit: Philippine Airlines
1. Ready your travel dates. Be mindful that cheap fares are usually harder to come by during peak season, summer, holidays, and festivals. Our friends from PTAA say that it's generally cheaper to go to other countries during their winter season, as their locals would travel outbound, while domestically, it's always better to schedule trips during our rainy season.
2. Avoid long lines and book airplane tickets through travel agents. Based on experience, the lengthiest lines at travel expos are those for airlines. But PTAA assures that travel agents in the expo usually can also offer the same fares with just a minimal service charge. I think the small difference is worth paying for in exchange for hours saved lining up.
3. Talk to travel agents and shop around. They say the good thing about Filipino travel agencies is that their staff are accommodating and always ready to answer questions. That being said, be armed with whatever questions you may have, and don't be shy to ask!
4. Be mindful of visa requirements. PTAA claims that among the most common problems they encounter with clients are visas. People tend to book cheap fares without thinking about visa requirements—these can sometimes cancel travel plans altogether.
5. Take advantage of tourism bureaus at the expo. While majority of trip planning and research can be done online, nothing beats local advice. At tourism expos, the embassy of certain countries send their tourism officers and attaches to invite more tourists. Aside from collecting those brochures and maps, interact, ask questions, and get valuable advice!
The PTAA TravelTour Expo 2015 is the biggest one yet, as it will occupy the entire SMX Convention Center for the first time. This means 288 exhibitors spread across 16,230 square meters of exhibition floor space, and of course, tons of great travel deals ranging from airfare and hotel rooms to tours and attraction tickets. Medical tourism packages will also be on offer. And as per usual, there will be performances from the exhibitors, in addition to raffle draws and freebies.
The focus of this year's expo will be our own country because it's Visit Philippines Year 2015, after all. Expect to see our beautiful tourist destinations grandly highlighted.
The PTAA Travel Tour Expo 2015 is happening on February 13-15 (Friday-Sunday) at the SMX Convention Hall at the SM Mall of Asia Complex in Pasay City.