Looking back on a few of my posts I have noticed a slight tendency to concentrate on some of the less awesome traits of London (not to be confused with whinging because I would never do that). After all, I wouldn't have left everything I had back in Australia to come and live in a city I didn't love. So to make amends, here are some of the truly fabulous things about Londontown.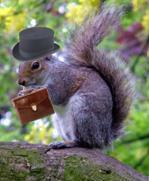 Squirrels
These little rascals make me smile each and every morning. I know they probably seem inconsequential but something about their fearless street crossing, warm fluffy coat and being a little but nuts emulates everything that is London.
Cabs that know where they are going
Cab drivers over here are the equivalent of the quintessential English gentlemen. They are always on time, know exactly where they are going, open the door and make sure you get home safely. I recommend downloading the Addison Lee app on your phone which will allow you to book a fixed priced cab from anywhere in London. They will even send you a text when they arrive so you don't have to wait out in the cold.
Cosmopolitan
If a bartender had to make a cocktail that embodies everything that is London, he would serve up a Cosmopolitan. You never know who you are going to meet, where they will be from, what they do for a job, what language they speak…the realm of possibility is endless. London also has a great way of making everyone look normal. I really feel sorry for the rebellious teenagers growing up here because nothing they can do will ever be shocking.
Remedy for the travel bug
London is the perfect remedy for anyone who is suffering from a case of the travel bug. If you feel like you need to shake things up a bit, simply get on a plane (or train for that matter) and an hour later you can be in country where they speak another language, eat strange foods and drive on the other side of the road. Make sure you sign up to Easyjet and Ryanair emails where you can get your daily dose of cheap deals such as £9.00 to Dublin!
The great outdoors
If you ever feel a little claustrophobic I can guarantee you are only minutes away from the great outdoors. At the last count, there were more than 3,000 parks and open spaces in London. My favorite one would have to be Richmond Park where you honestly feel like you have just stepped into the plot of a J. R. R. Tolkien novel. The almighty Sir David Attenborough also lives in Richmond which has to count for something. Other great ones include Royal Botanic Gardens at Kew, St James Park and Lee Valley Park.
Market day
If you are ever bored on a weekend you should head to one of the many great markets around. A really great day out is catching a canal boat from Little Venice which will take you down the Regents Canal, through London Zoo and drop you off right on Camden Markets doorstep. Other markets you have to check out include Borough Market, Portobello Market, Spitalfields Market (only Sunday) and Covent Garden Market.
Endless entertainment
London has something for everybody no matter what your size, shape, budget, taste, time and every other personalised trait you can think of. You can get really cheap theater tickets to anything that is worth seeing, especially if you go for the Tuesday matinée session. There are also heaps of museums, which can provide hours of free fun for whatever you're into, be it dinosaurs, portraits, comic books, science, steam, design and even one for coffee!
Music to my ears
It safe to say, that on every single day in London there is some type of live music gig or festival taking place. If you are looking to go to some summer festivals make sure you get your tickets nice and early because the good ones run out quickly. Also make sure you pack a pair of gumboots, a poncho and a packet of wet-ones which will suffice for your showing for a least three days.