After spending a few weeks too long in London I decided to swallow my Aussie beach pride and pay a visit to the English equivalent, Brighton.
Turns out Brighton has a pride all of its own. It is renowned as the gay capital of not only the UK, but of all of Europe and has caused me to redefine my concept of culture, convention and the appropriate use for refracted light.
The culture here is so strong that it somehow reminds me of a brilliant mish-mash of at least five completely different cities. If San Fran, Sydney, Amsterdam, London and Berlin had a love child…it would be Brighton.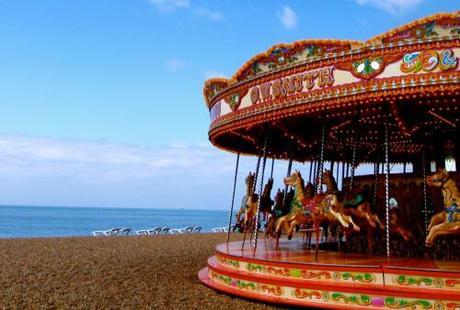 Merry go round on the beach...why not?
The people here are also refreshingly friendly. I managed to squeeze two or maybe even three good mornings out of strangers (back to being friends I haven't met yet) on my first day.
Unfortunately this friendliness does not translate across to our feathered friends. From what I can remember, the seagulls back at home were annoying, but fairly harmless. And not all that bad looking …you know, in bird perve terms. But heed my warning people. The seagulls in Brighton are big, mean and angry.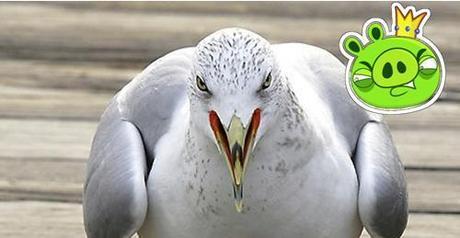 Now that's an angry bird...
I have no idea what makes these seagulls so cranky. They are lucky enough to live in a fabulous city that offers a great range of activities no matter your age, budget or orientation.
Brighton Pier
If you want to experience English seaside, then you simply must visit Brighton Pier. This is one of the oldest and most impressive piers in the UK and has become a British icon in its own right.
Built in 1823 the pier has seen its own fair share of hardship being blown over, burnt down and washed away more times than one cares to imagine (or tries to forget whist standing 500 meters out in the ocean).
From the very moment you step onto the boardwalk you feel as though you are walking onto a 1920's movie set as the sounds of Louie Armstrong float through the air and people eat fish and chips out of newspaper cones blissfully unaware of the calorie count.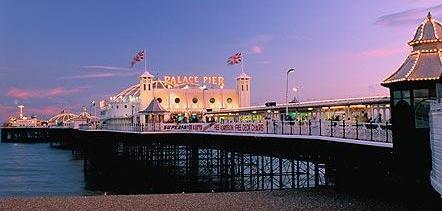 The Pier at night
Laneway Markets
The Laneway Markets are a perfect reflection of the vibrant, quirky, creative and offbeat culture that is so quintessentially Brighton. They are a mix of everything you could ask for in a market, be it antique jewelry, boutique clothing, second-hand books, organic food and original art…all hidden amongst the rambling side streets and alleyways.
The best way to find the markets is simply by getting lost. Which is really great for someone who is geographically challenged like myself. If you are more of a directions person, then just follow the signs to the North Laine. 
Depending on your spending (or saving) strategy, make sure you remember that many of the stands only accept cold hard cash.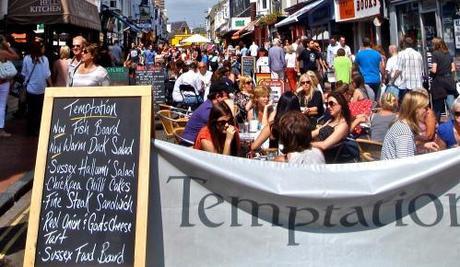 Temptation all right...
Royal Pavilion
The Royal Pavilion is the epicenter of all that is Brighton. It's flamboyant, lavish, culturally confusing (in a good way) and home to a good royal scandal.
It was built by the Prince of Wales in 1798 because his doctor thought the seawater might help his gout. It had nothing to do with the fact he also needed a discreet getaway from London where he could spend time with his young mistress.
From the outside it looks incredibly similar to the Taj Mahal with enormous dome ceilings, towers and minarets. But on the inside it resembles an oriental palace furnished with Chinese mythical creatures, hand-knotted carpets and an amazing chandelier held by a silver dragon.
Indian on the outside
and…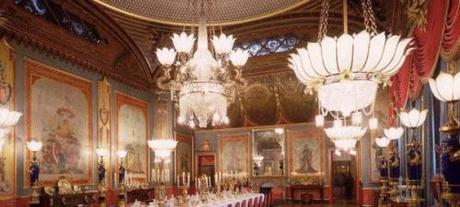 Chinese on the inside
Hove
Strategically placed along the Brighton beachfront is the Peace Statue, which you must walk past before entering the lovely town of Hove.
Hove offered me refuge on my Sunday morning run from perhaps the most appalling post-Saturday night warzone I have ever seen (or hope to see) in my life. Somewhere underneath the broken bottles, vomit, greasy food and I hate to say it but…urine, was Brighton.

I hate to see what the competition was like...
So you can imagine how happy I was to discover a tranquil town with colourful beach huts and plush seafront lawns. The boulevards (so much better than Brighton's streets) are lined with trees and there are coffee shops actually open before 9am!
D.I.Y
I would certainly recommend Brighton as a great weekend getaway from the sometimes claustrophobic London.
It only takes 45 minutes on the train from Clapham Junction, which if booked in advance will set you back less than £15.00.
I stayed at a great apartment I found through my new favourite booking website, airbnb.com. Here you can find great houses, apartments even castles for almost half the price of a hotel. Definitely worth checking out.