MEN
❤ ❤ ❤ ❤ ❤ ❤ ❤ ❤ ❤ ❤ ❤ ❤ ❤ ❤ ❤ ❤ ❤ ❤ ❤ ❤ ❤ ❤ ❤ ❤ ❤ ❤ ❤ ❤ ❤ ❤ ❤ ❤
Ermenegildo Zegna Couture  Autumn Winter 2014
CONCEPT:
The Ermenegildo Zegna Couture FW14 aesthetic and vision looks at the origins to define the future; an innovative identity and perspective to contextualize fashion through clothes that ooze luxury in deep cosmic blues, ash grays, burgundy and underwood greens.
Pilati's line-up looks to the market needs by building on the bond between the industry and the savoire-faire with a celebration of natural fibers that explore
and validate Zegna's longstanding tradition, integrity, identity and technological character.
With an original and elegant hand, Pilati delineates an aesthetic that merges formalwear with sportswear with a contemporary undercurrent; dark tones with
light and airy ones; function and form; natural fibers with synthetic ones. Pilati elevates the notion of sportswear to new heights of elegance while the formalwear reveals layers of precious fabrics that define a modern silhouette.
KEY THEMES:
- The Broken Suit, a masterful mix-and-match that veers from muted to bold. A new height of chic that mixes the three staple pieces of a suit, blazers, trousers and diagonally-cut vests – made from different fabrics in terms of weaves, textures and patterns in both tonal shades and degradé contrast. A strong example is represented by a glen plaid jacket over a solid vest over gingham trousers. A formal-meets-classic
aesthetic infused with personality and originality.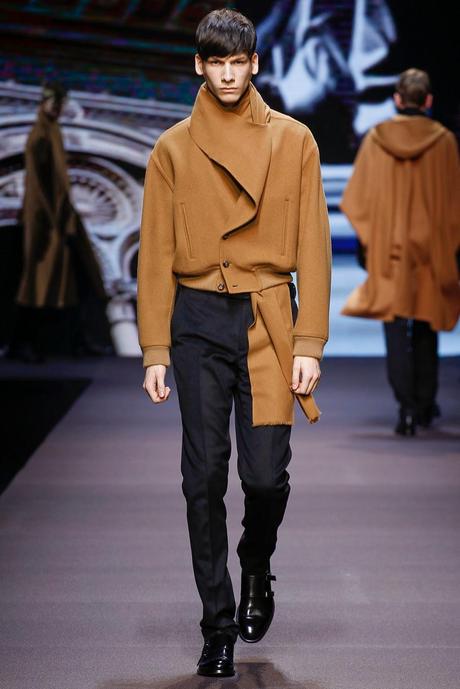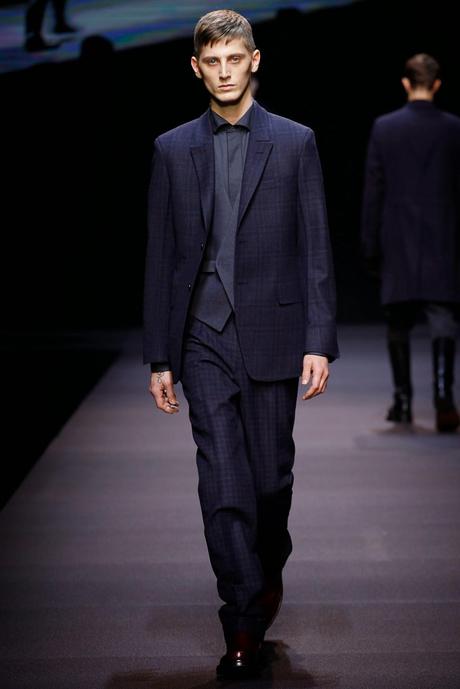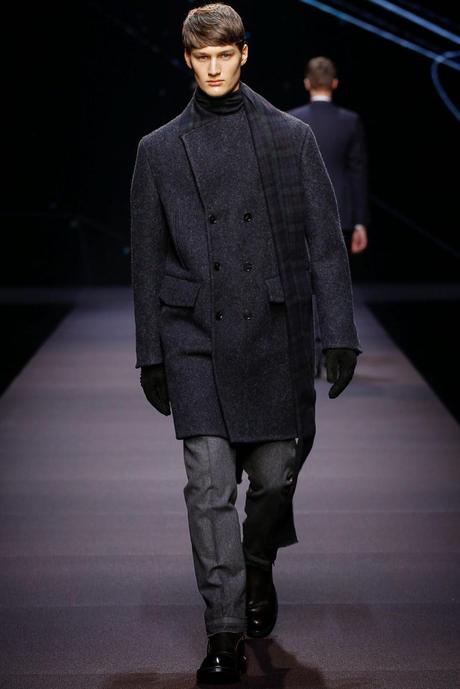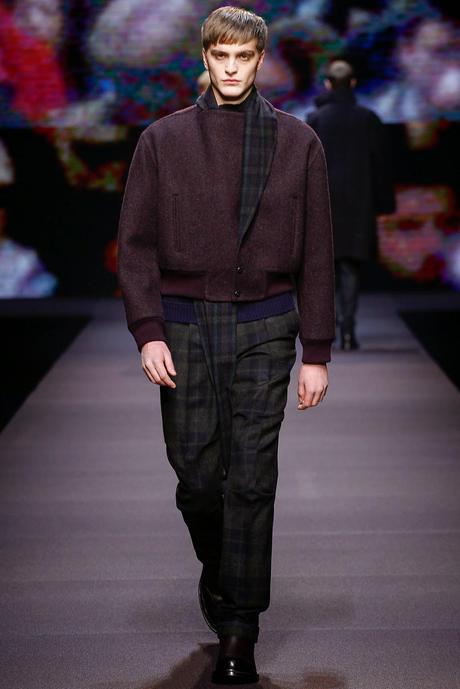 Zegna Autumn Winter 2014-15 Material and Print Highlights
1. Wool Priority
Wool has always been one of the core fibers for Ermenegildo Zegna sartorial offer. For this season, a wide range of Trofeo Light and New High Performance All Season combined with the evergreen Trofeo 600 and MilMil, characterize suits, jackets and trousers. Trofeo Light is a new exclusive type of Trofeo with extralight trans-seasonal weight. New High Performance All Season exploits the traditional High Performance quality applied to a twill weave: the resulting fabric preserves the
extraordinary resilience which characterizes HP on a heavier weight and more wintery look.
2. Winter Silk
The Silk Project remains a core element in the Ermenegildo Zegna winter fabric proposal. Thanks to the refined production processes, all the qualities of this noble fiber, like brightness, soft touch and a peculiar resistance, are strongly enhanced. Thanks to its technical features and look, Winter Silk has been used both on technical outerwear and on exclusive jackets.
3. Cashco Light
4. Tartan & Prints Mania
5. Hybrid Products
6. Elements Light
MORE ON ZEGNA IN INDIA
All Posts on ZaegnaSee who wore Zegna - Celebrities in Zegna- Zegna Spring/Summer 2014 CollectionEverything On Zegna Accessories
#factsofmylife