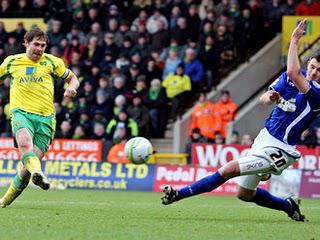 Every year when the forthcoming season's fixtures are released, the two matches that you first go looking for are those against your local rivals. In terms of the league, they may not be the most important fixtures when it comes to hunting at the top for promotion and the play-offs, or indeed scrapping at the bottom to avoid the dreaded phrase of relegation, but for pure excitement, nerves, passion and exhilaration, there's nothing quite like derby day.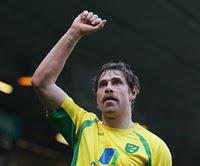 Norwich City striker Grant Holt
scored a hat-trick last time out
against Ipswich Town.
Many of you will have seen last night's thrilling North London derby between Tottenham Hotspur and Arsenal at White Hart Lane. It was a game that had just about everything, as you can read about in the match report below, and epitomised the very essence of a contest between two bitter rivals. The work rate and commitment of both sides was there for all to see and the atmosphere inside the stadium was incredible, it was certainly a real feast for the neutral football fan. However, when it is your own team that it is participating in a derby, as it will be for me tonight, you will be hoping for a match far less strenuous on your blood pressure.
In just a few hours time my team, Ipswich Town, will take on local rivals Norwich City in the so-called 'Old Farm' derby. It will be the 97
th
time the two sides will have faced each other and the game at Portman Road is set to be a cracker. But tonight I am not really interested in the quality of the game. I am not really interested in the goals. I am not really interested in anything to tell you the truth. The one thing that I am only interested in is the result, and that is a positive result in Ipswich Town's favour.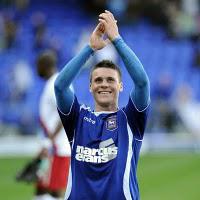 Ipswich Town youngster Josh
Carson will be looking to keep up his
good run of form against local
rivals Norwich tonight.
For years fans all over the world boast that their team's derby is the greatest in the world.
El Classico
between Barcelona and Real Madrid, the Milan derby between Inter and AC, the Old Firm derby between Celtic and Rangers. Yes, undoubtedly all of these are fantastic rivalries and produce some fantastic matches for neutral supporters to observe, but the only derby that really matters is the one that consists of your local team.
A local derby is unrivalled in the football calendar and victory in such a match rewards you with the delight of bragging rights for the next six months. Yes tonight's 'Old Farm' derby may not be the most glamorous in the world of football, but it does not matter. For the supporters of Ipswich Town and Norwich City, tonight is their cup final, just as last night was the cup final for the fans of Tottenham Hotspur and Arsenal. There truly is nothing quite like derby day. 
What are your views and opinions on tonight's game between Ipswich Town and Norwich City? Share your thoughts on that and great football rivalries in the comments box below.