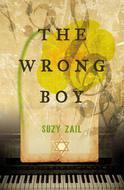 What's it all about?:
The story of a Jewish girl sent to Auschwitz with her family. She falls in love with the wrong boy – the German son of the camp commander.
Hanna is a talented pianist, and the protected second daughter of middle class Hungarian Jews. Relatively late in World War II the Budapest Jews were rounded up and sent to Auschwitz. Hanna and her mother and sister are separated from her father. Her mother becomes increasingly mentally ill until she too is taken away somewhere. Her sister Erika is slowly starving to death. Hanna is quite a naïve 15-year-old but when presented with the opportunity to play piano for the camp commander, she is desperate to be chosen. She goes each day under guard to the commander's house and stands waiting in case the commander should want some music. Also living in the house is the commander's son, Karl. A handsome young man who seems completely disengaged from what is happening around him. Hanna hates him as he sits drawing in the music room. But the longer Hanna goes to the house, the more she realises there are other things going on. Secret things. Karl may not be the person she thinks he is. Before she knows it she has fallen in love with the wrong boy.
What did I think?:
The Wrong Boy was one of my must-read picks for Chrissi Cupboard Month back in December 2014 after once again my sister and fellow blogger Chrissi Reads begged me to read it. By the end, I think I loved it more than she did. I'm very interested in anything Holocaust related and a book from the point of view of a Jewish girl that is sent to a concentration camp instantly appealed. The story begins near the end of World War II where our main character Hanna is living in a Jewish ghetto with her parents and older sister, Erika. However, it is not long before German soldiers come to the ghetto, round up the entire Jewish community and ship them off to the terrifying camp of Auschwitz-Birkenau. The family barely have a chance to gather up some belongings but Hanna manages to take one of the black keys from her beloved piano as she is a talented pianist and had recently been offered a place at a prestigious music school.
Not only is the journey to the camp bad enough as hundreds of people are packed into trucks like cattle but Hanna, her mother and her sister are separated from their father with no idea if they would ever meet again. Before he is led away, Hanna's father manages to extract an emotional promise from her – that she would fight her hardest to survive this process so that she can tell people in the future exactly how they were treated. Once inside the camp the family are reduced to a pitiful and almost animal-like status where their heads are shaved, they are kept in uncomfortable and very cramped living quarters and are worked back-breakingly hard in the fields. They survive on meagre portions of food that reduce their bodies to mere skeletons where the tiny portions of bread that they eat are mould-infested and hard as bricks. Then there are the constant threats that they could be killed instantly just for not being able to stand up during the roll call every morning. What makes things worse is that Hanna's sister Erika who is normally an outspoken and strong character seems to be fading away a little more each day while Hanna's mother is sinking deep into the realms of insanity.
One day, Hanna's music teacher spots her amongst the prisoners and manages to engineer the chance for Hanna to audition to be the official pianist for the Commander of the camp. She secures the role and as a result is guaranteed to be in warm surroundings and to have a pair of shoes to wear. Although playing for the Commander and his silent and intimidating son Karl disgusts her Hanna sees it as a good opportunity to procure extra bits of food so that her sister can be encouraged to survive. However, Hanna isn't expecting the effect the Commander's son is going to have on her, especially when she discovers that he may be sympathetic to her situation. Soon Hanna finds herself in a very dangerous predicament of being in love with the wrong boy and, in a world where even playing the wrong note could be a death sentence for her Hanna is walking on a very thin tightrope if she is going to survive Auschwitz.
I can't recommend this book highly enough. It is an achingly beautiful and heart breaking account of a terrible period in our land's history that we can only hope will never ever be repeated. I didn't realize until the end of the book that the author's father had actually survived the horror of Auschwitz himself. This gives a startling authenticity to her words and one can only imagine the brutality that the prisoners of the camps had to endure. Hanna is a wonderful, strong and incredibly brave heroine and I was rooting for her throughout the book as she falls in love for the first time in the worst possible circumstances with the most unsuitable partner at the wrong time! I don't want to say too much about the ending but for me it was a perfect finale that still holds that glimmer of sadness. This is a really thought-provoking and thrilling read and I'm looking forward to picking up The Tattooed Flower which is a non-fiction account of the author's fathers' time in Auschwitz.
Would I recommend it?:
But of course!
Star rating (out of 5):