I just realized the other day that I tend to blog mainly about new bars and restaurants that I've come across and only visited a few times, not the places I frequent every week, my locals, for want of a better word! This situation must be rectified starting with The Woolshed on Parnell Street.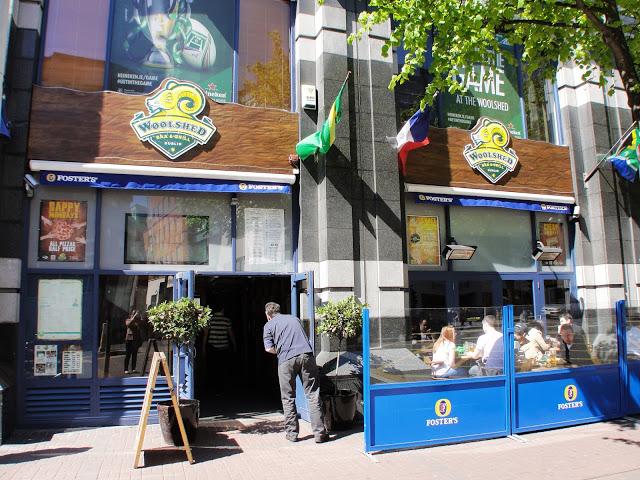 The exterior of The Woolshed on a rare sunny day. The smoking area is all-weather though as they have some of those niffty outdoor heaters! 
I really love this place. I came to this realization only recently. If anywhere else served up the same kind of fried food in a poorly lit bar on a sticky table with loud TVs blaring at me while I was watched over by an over-enthusiastic bouncer I'd slate the place! They say love is blind! I overlook all the short comings because The Woolshed feels like home. and not just for me! Technically it started life as an Australian bar but in their first few years they spread their wings to include the entire antipodean region. Now they celebrate Canada Day as well as
Thanksgiving
and in a few days there's Festa Brasileira. It seems that everyone, expat or not, feels at home in The Woolshed.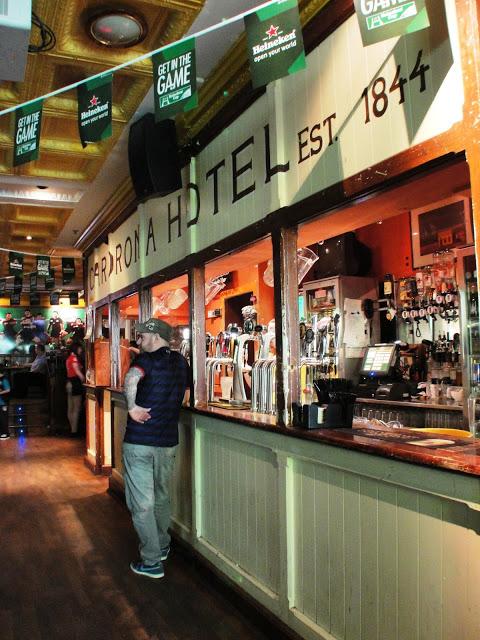 The upstairs bar.
The Woolshed is a sports bar. Spread over two floors they have eighteen TVs including three large screens. They can show a myriad of live sporting events all at the one time. It's nearly 100% guaranteed that if there's a sporting event on during pub opening hours that it'll be shown in The Woolshed. They cover everything from NFL to GAA from Formula 1 to boxing and every other sport in between. I'm an avid soccer fan and The Woolshed always comes up trumps for me, even Saturday afternoon games which aren't normally televised on any channel broadcasting in Ireland!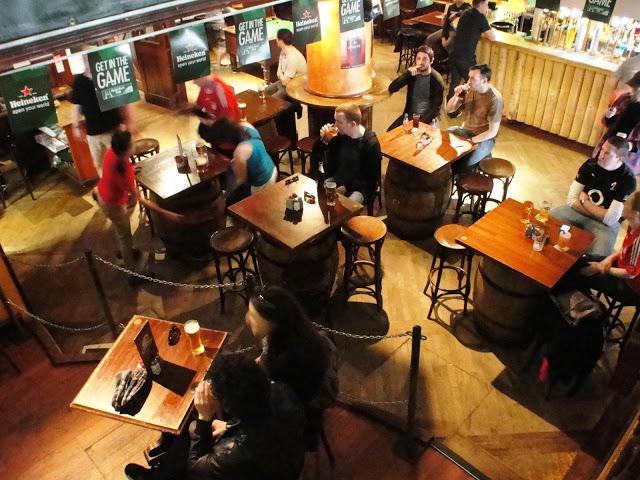 Folks in to watch the last EPL matches of the 2012/13 season
The Woolshed do a brisk trade in pitchers of beer, they start at €10.00 for the likes of Fosters. They also have a great range of Australian beers including Carlton, Victoria Bitter and James Boags. More recently they've introduced a range of craft beers to their ranks. I've spied taps from O'Hara's and Franciscan Well breweries. In the fridge they have, among other things, bottles of Galway Bay and Sierra Nevada. If beer isn't your thing there is an extensive cocktail list. Anyone for a Lazy Lizard?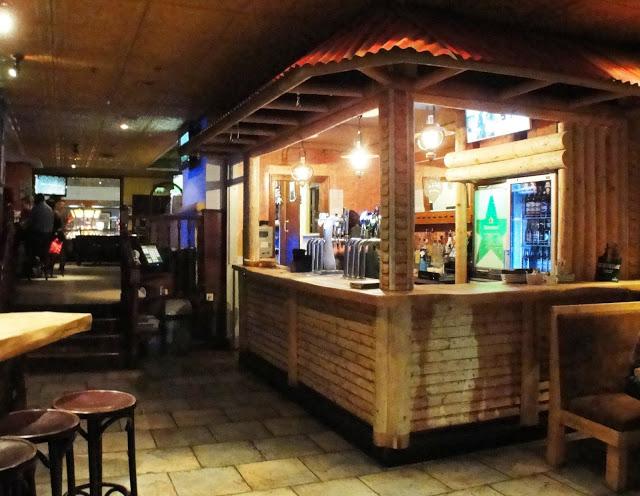 One of the downstairs bars
I've already mentioned the food. One thing is guaranteed, you wont leave The Woolshed hungry! It may not be haute cuisine, or any kind of cuisine for that matter, but it's plentiful and deliciously greasy! Perfect food for soaking up beer, not to mention great value for money. I'm being tongue in cheek , it's not all that bad, I'm quite fond of the pulled pork sandwich and the Boars roll is really tasty. M likes their "Gourmate Burger" and their "Chook Wings" - chicken wings. If you're just looking for a snack you could opt for the "Mini Snags" - chips with cocktail sausages, the chili fries, some nachos or even a platter to share. Prices start around €4.00 for snacks and rise up to around €12.00 for burgers while pizzas come in at around €11.00. All in all it's good value for money bar food. One thing I must add is that the servers in The Woolshed are among the most pleasant people you will ever come across. I have speculated that it's because most of them have grown up in warmer climes and are therefore not hardened and grumpy by the unfortunate Irish weather!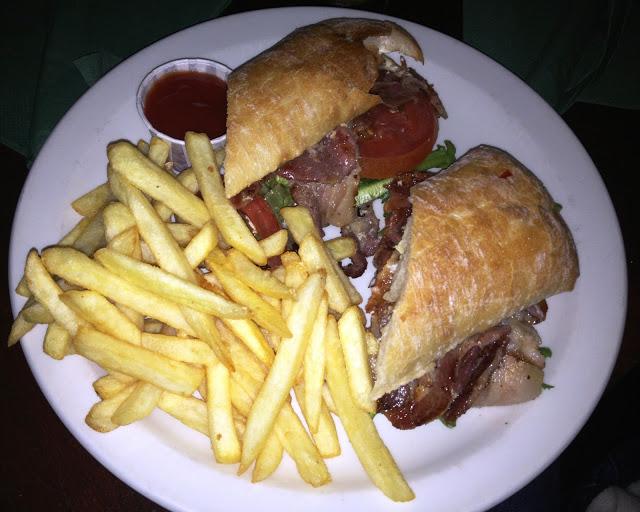 BLT with a generous portion of fries.
The Woolshed isn't one of those pitiful bars where the owners sit around whinging about bad business or how the smoking ban has ruined them. They actively try to get punters in the door! Besides the sporting events that they cover they also provide entertainment almost every night. From comedy nights to karaoke and musicians to pub quizzes the place is always quite packed even on week nights. Myself and some friends go to the quiz on Tuesday nights, I recently overheard us being described as "the quintessential quiz team" which probably just means that we're old but... who cares... we won €50.00 last month!
The Woolshed run fantastic deals all the time, like half prize pizza on certain nights. They also have a discount card which offers 10% off all purchases. In addition they offer discounts to Cineworld Unlimited Cardholders as well as doing special nights in conjunction with the cinema. It's well worth checking out.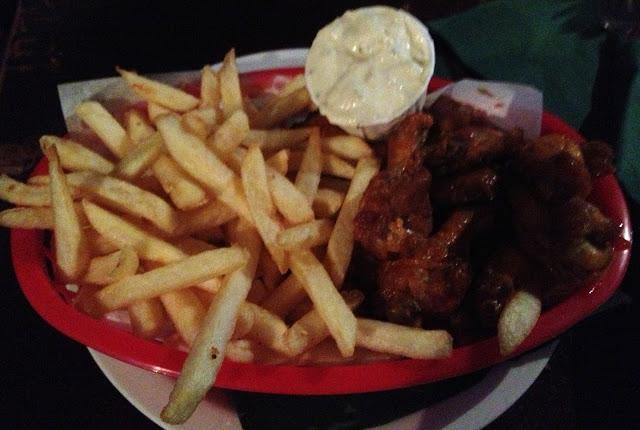 Chook wings! 
If you're new to Dublin or even if you just haven't visited The Woolshed before drop over to Parnell Street and check out the place. Withhold your initial judgement, do give it a little time, believe me it grows on you!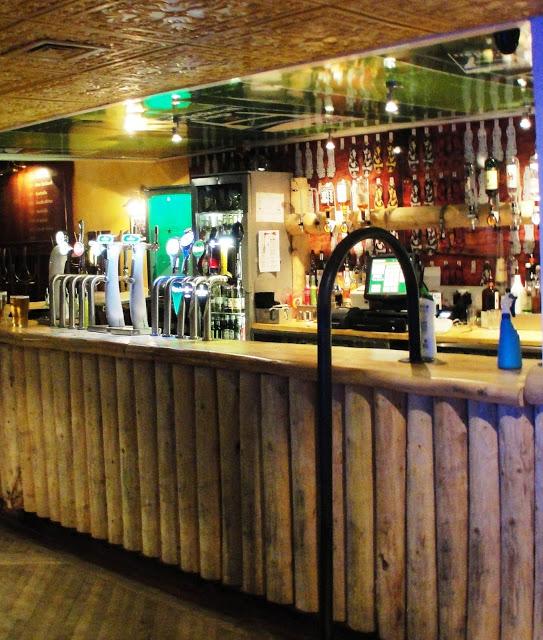 The Woolshed Baa and Grill
Parnell Street
Dublin 1
01 872 4325
http://www.woolshedbaa.com/dublin/