Happy Monday my friends!  How did everyone fare with the storm this weekend?  Thankfully, we didn't get hit badly (which is very unusual) so I am really happy!  We probably got 6-8 inches, but for those of us in MA/New England, is really just a dusting. All the roads were plowed down to the pavement and it was a breeze getting into work this morning!
So, as most people were still waking up and/or getting ready to go to work, I was sitting down to type up this post and I couldn't believe how quickly time was flying by–I just finished week 4 of my Rock CF half marathon training, so let's see how it went with the Weekly Wrap Up!
Week of 1/18-1/24
Monday: I hit the streets early and since it was a holiday for most people (not for me), and it was ridiculously quiet. I passed one runner at about mile 2 of my run, and that was it.  Usually I pass 15-20 runners, but I guess with the snow and the holiday, people were sleeping in.  It was actually a really peaceful run. It wasn't as easy navigating the docks and planks as usual but it was dark and quiet and nice.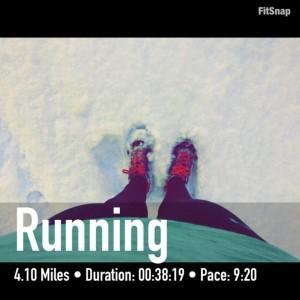 Tuesday: My body was pretty sore in the morning but I pushed through and did my full body strength training circuit workout but didn't do as many leg exercises as usual to give my lower half a little break. Once I got moving and warm, I felt good.  Afterwards I foam rolled. Nothing exciting about this workout.
Wednesday: Hills-total of 4 miles.  1 mile warm up at 8:57 pace, 2 miles of 1/4 mile hill repeats at 7% incline at a 6.0 pace, 1 mile cool down at a variable pace (8:30-8:57)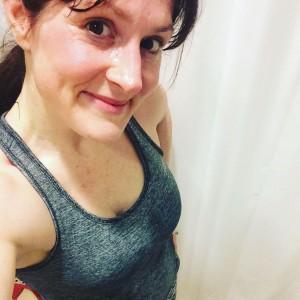 Robyn had his quarterly work meeting so that means he doesn't get home until late, so I got to take advantage of the one on one time with Ashton and we went out for dinner at his favorite place and of course, followed dinner with some ice cream. He has sitting on my lap and we were doing some drawing and then he asked to take a pic, but each time I snapped it, he would make a funny face–I just love this kid, he is so goofy and fun loving. We were laughing so hard in between takes and he kept saying, "I'll be serious Mama, I will, I promise!"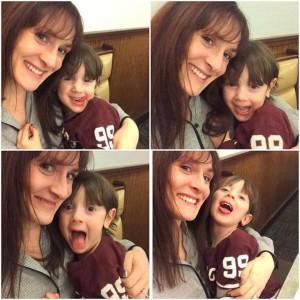 Thursday: Strength training again. I did a full body circuit including legs and felt pretty good, but I need to write down a more focused plan for my strength training days and may even pull out some strength videos and write down the moves.  I am feeling a bit stale in this area right now. Afterwards I did some much needed foam rolling.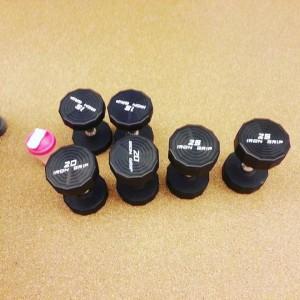 Friday: I like Fridays because they are my easy day.  I had 2 miles on the schedule and a lot of foam rolling. I wore my Altras for the entire run and they felt pretty good!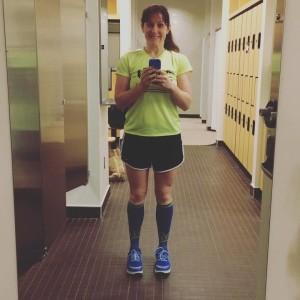 Saturday: Ashton woke up uncharacteristically early (7:00 a.m.), which means I was up too.  He had a play date at 9 with is old daycare provider (she is amazing and we keep in close contact with her), so we played for a bit and then dropped him off of her house for a few hours so he could play with her family.  We went home and I decided to get in my long run in the morning instead of waiting until the afternoon. I much prefer to run in the morning vs. the afternoon, that's for sure!  I put on the new episode of Arrow and got started.  I wore my Altras for the first 2.5 miles and then switched them out and felt pretty good.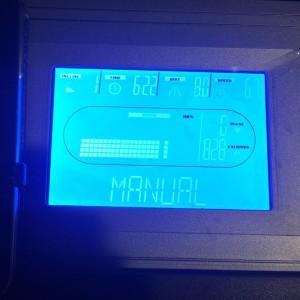 This has been my longest run since running Boston in 2014 so I was unsure on how I would feel, but I felt really good, thankfully!
Sunday: My day of rest.  We got up, ate a lazy breakfast, played, went grocery shopping and I did laundry and packed as I will be gone most of the week for our annual Sales and Marketing conference. Since we didn't get slammed with snow and it was fairly good temperature wise (30 degrees) we took Ashton outside for some sledding.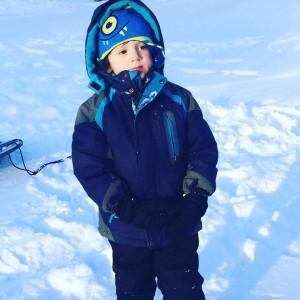 And of course, some ninja training!
So, there you have it my friends, the Weekly Wrap Up!  Overall, it was a good week of training with my longest "long" run in a very long time, a great weekend with my boys…and now I am off this week for a work training!
Have a great Monday–I hope to see you later this week!
—————————————————————
Question of the day
How was your weather this weekend? Get in any good runs?