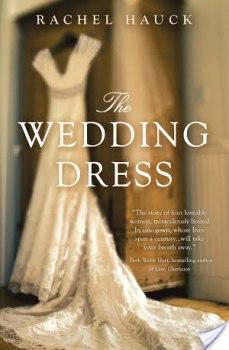 The Wedding Dress by Rachel Hauck
Also by this author: The Wedding Chapel, The Wedding Shop, A Royal Christmas Wedding
Published by Thomas Nelson Inc on 2012
Genres: Christian, Fiction, Romance
Pages: 343
Format: Paperback

Four brides. One Dress. A tale of faith, redemption, and timeless love.Charlotte owns a chic Birmingham bridal boutique. Dressing brides for their big day is her gift . . . and her passion. But with her own wedding day approaching, why can't she find the perfect dress…or feel certain she should marry Tim? Then Charlotte discovers a vintage dress in a battered trunk at an estate sale. It looks brand-new-shimmering with pearls and satin, hand-stitched and timeless in its design. But where did it come from? Who wore it? Who welded the lock shut and tucked the dog tags in that little sachet? Who left it in the basement for a ten-year-old girl? And what about the mysterious man in the purple vest who insists the dress had been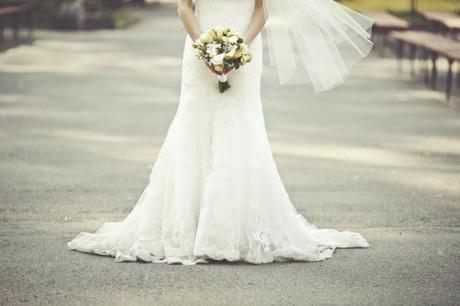 Because of my relationship with The Fiction Guild's Elite Reader Program, I've been lucky enough to receive all of the books in Rachel Hauck's wedding series, and both my mom, Gloria and I are very grateful about that! Today's book is by Rachel Hauck called The Wedding Dress, and here is Gloria's review:
The back side of this book reads: 
Four Brides, One Dress.
A tale of faith, redemption, and timeless love.
The story begins with Charlotte, an independent girl, who owns a contemporary bridal boutique called Malone & Company in Birmingham, Alabama.  Dressing brides was her gift.  Why could she not find the perfect dress for her up-coming wedding and why did she have a bad feeling about marrying Tim Rose?  Charlotte had no one after her mother's death and Tim had a large possessive family.  Could she fit into this family?
Leaving the shop in the capable hands of Dixie to handle Miss Alabama find her perfect dress, Charlotte goes to Red Mountain to enjoy some time at the spot where her mother used to take her for their picnics to think.  Today there was an auction where she got roped into bidding on an old battered trunk from 1912 in which she paid $1,000. Why had the mystery man who wore purple claimed she had redeemed the dress?
When the welded shut trunk was delivered, she wondered what to do with it and how was she going to get inside. Tim opened the trunk and inside they discover a perfect wedding dress.  The dress is over a hundred years old, but looking new and like it has never been worn.  
This wedding dress was been worn by three different women.  Charlotte must find where this dress came from. Tracking the past she learns about Emily who was the first owner in 1912, Mary in 1939, and Hilary in 1968 as well as discovering more about herself.  One wedding dress passed down in perfect condition and needing no alterations to wear on their wedding day.   Almost magic!!
I loved taking the romantic journey with Charlotte as she learns the history of the dress and sharing the lives of the three women who had worn it.  Rachel Hauck weaves together their stories which span over a century.   This is a wonderful story and I look forward to reading more of Rachel Hauck's books in the future.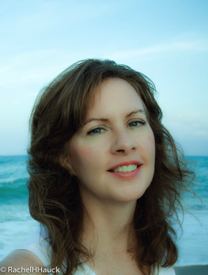 Instead of the usual bio, I thought I'd cut and paste something I found on Rachel Hauck's website where she lists her favorite things. If you want to know more about her or her other books, you can catch her on her website HERE.
• Exercise.
• Watching the Buckeyes and college football. It's a "season" in our house.
• Worship/Singing (I'm the worship leader at our church)
• Movies (like Remember The Titans, The Proposal, Notting Hill, It's a Wonderful Life)
• Love stories (real and made up!)
• Photography
• A good prayer meeting!
• Family and friends – the spice of life.
I received a paperback copy of this book without cost from the publisher through The Fiction Guild, a Thomas Nelson/Zondervan Elite Reader book review bloggers program. I was not required to write a positive review. The opinions I have expressed are my own, or in this case, my mom's.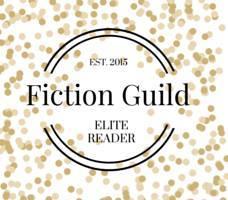 ~ ~ ~ ~ ~ ~ ~ ~ ~ ~ ~ ~ ~ ~ ~ ~ ~ ~

It would be great if you would stay connected with me!! You can follow me on Twitter @DebiL1611, like me on Facebook at 2014 and Beyond, circle me on Google+, follow me on Tumblr, Instagram and Bloglovin', subscribe on YouTube, or connect with me on LinkedIn and Pinterest.

Please make sure to visit my homepage and subscribe to my blog for more great posts on running, fitness and lifestyle topics as well as food, product, music and book reviews, and more!