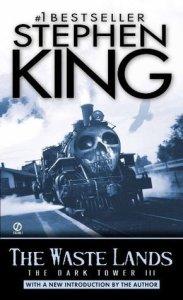 What's it all about?:
The Third Volume in the Epic Dark Tower Series…
The Waste Lands
In 1978, Stephen King introduced the world to the last gunslinger, Roland of Gilead.  Nothing has been the same since. More than twenty years later, the quest for the Dark Tower continues to take readers on a wildly epic ride. Through parallel worlds and across time, Roland must brave desolate wastelands and endless deserts, drifting into the unimaginable and the familiar. A classic tale of colossal scope—crossing over terrain from The Stand, The Eyes of the Dragon, Insomnia, The Talisman, Black House, Hearts in Atlantis, 'Salem's Lot, and other familiar King haunts—the adventure takes hold with the turn of each page. And the tower awaits….
Roland, The Last Gunslinger, moves ever closer to The Dark Tower of his dreams and nightmares—as he crosses a desert of damnation in a macabre world that is a twisted image of our own. With him are those he has drawn to this world: street-smart Eddie Dean and courageous wheelchair-bound Susannah.
Ahead of him are mind-rending revelations about who and what is driving him. Against him is arrayed a swelling legion of foes—both more and less than human….
What did I think?:
As this is the third book in Stephen King's epic fantasy series, It's always going to be a bit tricky to review things without giving too many things away. However never fear readers, I will do my very best to be as annoyingly vague as possible as I would never want to ruin a series that you may not have started yet. If you've read my reviews for the previous two books in the series, The Gunslinger and The Drawing Of The Three you might remember I had a rocky road when starting my Dark Tower journey initially. I didn't get on with The Gunslinger at all first time round and had to be heavily persuaded by a good friend to carry on and read the second book in the series. Luckily once I did, I fell head over heels in love with the world, the characters and their adventures and it will always hold a special place in my heart.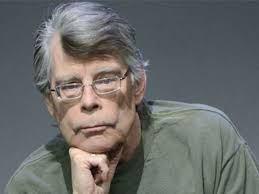 Stephen King, author of The Waste Lands, book three in The Dark Tower series.
After the dramatic events in The Drawing Of The Three, finally things are starting to make a little bit of sense. Well, just a little bit as believe me, our travellers: Roland Deschain, Eddie Dean and Susannah have a LONG way to go, a difficult road and a lot of surprises ahead of them. In fact, their journey is just beginning and Roland is in the process of training them both to be competent gunslingers. He is fully aware of the dangers they are about to face in the quest for The Dark Tower and is desperate to adequately prepare them so they can approach anything with courage and steely determination. Luckily, they are naturals. However, their group is not yet fully complete and is missing two very crucial figures – Jake and his animal companion, Oy who both join the travellers in The Waste Lands and finally complete the "ka-tet." Now the group must follow the path of the Beam, search for the elusive Dark Tower and take the necessary steps to deal with anything that might stand in their way, even if that adversary wouldn't be out of place in the darkest fairy-tale or nightmare.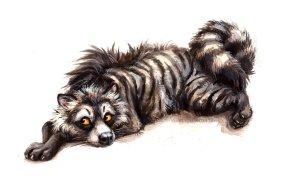 The best depiction of Oy I've ever seen – this is exactly what he looks like in my mind's eye! 
From: http://darktower.wikia.com/wiki/File:Oy_Stephen_King_Wiki.jpg
Even though The Drawing Of The Three is tied for top spot as one of my favorite books in The Dark Tower series, The Waste Lands comes a close second and, I have to be honest, it's because of the appearance of Oy. I adore Oy with every fiber of my being, he's a wonderful animal side-kick with a personality all of his own and who definitely has a crucial part to play in the series as a whole. Before I get too carried away with a fictional animal character however, I have to also mention the world building which continues to improve as the series continues with the plot layers becoming even more intricate page by page. Not only is each character fantastically developed (King has a real eye for creating unforgettable personalities) but it feels like even though it's a fantastical world, with make-believe creatures, it's something you can both really believe in and invest your time in. Does that sound strange?
Stephen King has been creating the world of The Dark Tower for many years and it really shows. He may have taken an enforced break from it for a while after The Gunslinger but thank goodness he did because what he came back with was pure magic. Roland and his gang, the world that he has developed and the challenges that our characters face is a story that obviously got under his skin and has definitely got under mine too. The imaginative twists and turns never fail to blow my mind and as The Waste Lands ends on such an astounding cliffhanger, you'd have to be crazy not to want to pick up the next book in the series immediately.
Would I recommend it?:
But of course!
Star rating (out of 5):

COMING UP SOON: Wizard And Glass (The Dark Tower #4)
Advertisements