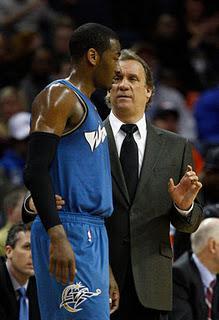 Photo: Zimbio.com
- Troy Ballard
The Washington Wizards have started a shortened NBA season in the worst possible way, winning only one game, and at this point, the organization needs to make major changes, which include the firing of head coach Flip Saunders.
By no means did Washington expect a playoff appearance a championship run this season, but if nothing else, at least some forward progress. Thus far, the Wizards look unorganized, sloppy, and are failing to play with any purpose, hence the 10 losses and only one win.
Perhaps the most alarming issue in Washington is the sudden regression of former first overall selection, point guard John Wall. The Kentucky guard was supposed to be the answer to the Wizards' woes, but instead he is struggling along with the rest of the team.
Saunders isn't the only reason that the Wizards, and especially Wall, are struggling, but he is a big part of it. When a coach begins to lose control of his team, with players ignoring play calls, not listening during team timeouts, and looking lethargic on the court, there needs to be a change.
The Wizards need a punch in the arm to get them moving forward in the right direction again. A friendly nudge that Saunders can't seem to give his team, and the Wizards need a new start with a brand new coach to help them grow and develop as a unit.
Washington has the talent to succeed, with Wall, forward Andray Blatche, and center JaVale McGee, all of whom are under 25. The team just needs a coach that can piece it together and get a very young squad all working in the same direction. Washington needs to find a strong coach that can rally a young group of players that are in the worst losing-slump of their respective careers.
Unless the Wizards organization is tanking the season intentionally to get, what appears to be at this point, the top overall selection, there is no reason to keep Saunders around. Where Washington is at right now is the very bottom, and they can't get any lower then this. If the Wizards bring in a new coach, there is no where to go but up.
Saunders has had his chance in Washington to salvage his career and the organization, and he failed to do it. Realistically, he should have been replaced at the end of last season, but the Wizards held onto a faint hope he could save a failing experiment.
Moving forward, the Wizards only have one option, and that is to fire Saunders. The only question is how long it will take? 20 losses? 30? 50? Regardless, the Wizards have a shortened season and if they plan on giving anything back to their fan base in terms of hope, they need to fire Saunders immediately.
Be sure to follow Beard and Stache on Twitter @BeardAndStache, and also Troy @TroyBallards, Like our Facebook page HERE!