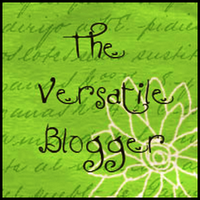 I'd just like to start out by saying the weather gods must have read my post yesterday because not only is it about 40 degrees cooler it's raining and terrible outside.  I'd complain that now it's too cold but then I'd risk turning into Goldie Locks and nothing would be juuuust right.  But weather complaints aside, I am very excited to let you all know I've been nominated for the Versatile Blogger Award!  I am very excited because not only does this mean people have actually been coming to and reading my blog, but that they like what they read.  I'm very excited and it's added a little sunshine to an otherwise cloudy day!
The fabulous blogger who nominated me was Peace, Love, and Fabulous Things.  I wish I could nominate her again for this award because her blog is one I absolutely love myself.  You should go over there and check out some of her posts (especially her new and fantastic chalkboard door!)
Here are the rules of the Versatile Blogger Award:
(1)Thank the person who gave you this award. That's common courtesy. (2) Include a link to their blog. That's also common courtesy — if you can figure out how to do it. (3)Next, select 15 blogs/bloggers that you've recently discovered or follow regularly.  (4) Nominate those 15 bloggers for the Versatile Blogger Award — you might include a link to this site. (5) Finally, tell the person who nominated you 7 things about yourself.
So here are my 15 nominees for the Versatile Blogger Award, all of whom really deserve it and whose blogs always brighten my day!  (and in no particular order)
(1) This is the Crafty One: A fellow cross-stitcher who also does some fabulous scrapbooking.  She's a real inspiration and has some great projects going now, so be sure to check her out!
(2)Country By Design: Another fellow crafter who not only knows how to make a fantastic quilt, but who has been making some pretty fantastic looking baked goods the past few days.
(3)Vix Knits…And Crochets and Sews: A very fabulous knitter who is truly inspiring if you're looking for a little more fashion forward patterns to knit.
(4) Hardcovers and Heroines: These two Allisons' are all about books and I always love checking out what they're up to from 'wordless wendesdays' to double book reviews.  You should check out some of their Hunger Games stuff this week.
(5)Delinqious: Another of my favorite crafty bloggers, she always has a new craft, one of my favorites was her pop-tart inspired cell phone case.
(6) More Quirky Than Crafty: This blog always makes me wish I had my sewing machine out…so many cool ideas to try!  I especially love the tea-cozy she posted pictures of most recently.  It's fabulous!
(7) Going Dutch: I started following this blog just recently, but it's drawn me in, fantastic pictures of fantastic places…all of which need to go on my 'places to travel to' list.
(8) Dutch Goes Italian: This is such a unique blog and I'm learning so much more about Italy (the non-touristy side) not to mention some fantastic pictures here as well.
(9) Ellielacey: Well, if a picture says a thousand words this blog has it all.  I love all the pictures posted here (especially the tetris cross stitch).
(10) The Modern Woman's Society: A veteran of the Versatile Blogger Award I couldn't help but nominating this blog for it again.  There's a little bit of everything here and never a dull moment! And the zombie post yesterday just made it even better!
(11)Million Minds in My Mind: One of the first blogs I started following and some great words of wisdom.  You can't walk away from this blog without something to think about!
(12) The Shy Lion: This blog is just fabulous and I wish I'd found it sooner.  Not only is he a fantastic knitter-crafter in general, but his posts will bring a smile to your face and brighten your day.
(13)Lost DoDo Designs: Another crafty blog that has a little of everything.  As much as I love my cross stitch I might be willing to set it aside and give my sewing machine some attention to try out some of these crafts.
(14) Crossed Yarns: Some really fabulous cross stitch pieces showcased here, not to mention links to things (like free giveaways) ever now and then!
(15) Pin Cushions and Reflections: Another cross-stitcher who happens to be multi-talented.  I'm looking forward to seeing more of her gardening endeavors!
Now…7 Things About Myself (that you might not already know…)
1) I have a dog named Frodo because I love the LotR, and my puppy
2) I published a book last summer (it's not currently available right now because it's being shopped, but hopefully it'll be available again soon)
3) My favorite movie of all time is Elizabethtown but I couldn't tell you why
4) My favorite author of all time is John Bellairs, and I don't care if he just wrote YA, he's still fantastic!
5) When I don't want to do my work I go on pinterest for a 5 minute break so when it's an hour later I can blame pinterest for my procrastinating instead of my lack of motivation
6) I love soap operas, they make my life bright.  I cried when OLTL and All My Children went off the air.  No lie.
7) Sometimes I dip cheese-its in hot chocolate because I like the taste of salty chocolate (or chocolate cheese-its) and I wish someone would market this in a package so I don't look so weird