A little while ago on twitter I saw that The Vegan Kind were planning to release a beauty box. I have been patiently waiting, and this week it was finally despatched. Everything in this box is cruelty free. Here are my initial thoughts on the box.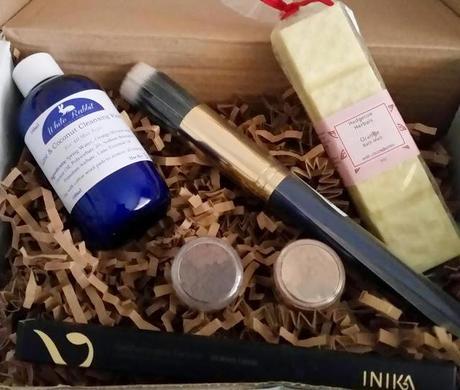 This is not a monthly subscription box, but I think there are plans to produce more boxes in the future. This cost £15 + £2.95 delivery. The boxes were limited availability, so I am not sure whether any are left to buy.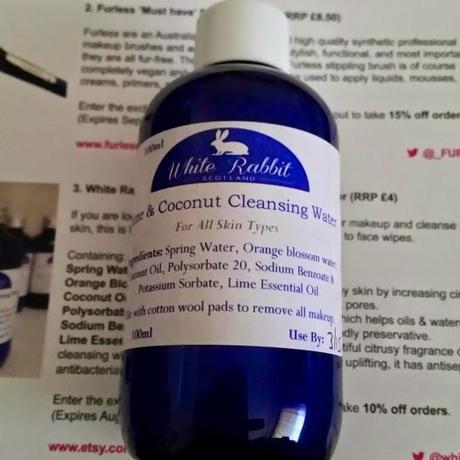 The first item is White Rabbit Lie and Coconut Cleansing Water which smells absolutely beautiful. It is nice to see something from a smaller seller on Etsy included in a beauty box. I look forward to trying this.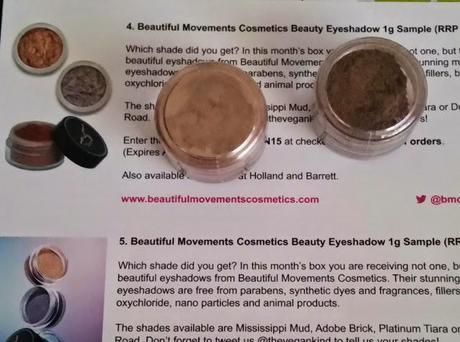 There are two eye shadows (1g samples) by Beautiful Movements Cosmetics. the shades I have been sent are Adobe Brick (a coppery colour) and Mississippi Mud (a rich chocolate brown). Beautiful Movements was co founded by Kimberly Wyatt and Laura McComiski. Their products are free from parabens and synthetic dyes and fragrances. I couldn't have picked better colours myself and think I will get a lot of use from these.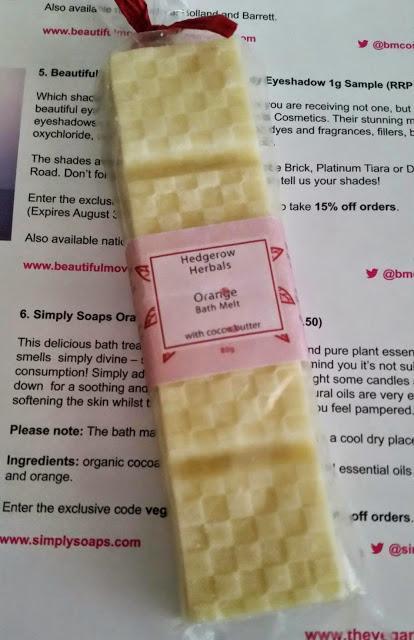 An Orange Cocoa Butter bath melt by Simply Soaps. This contains just 4 ingredients. It smells lovely and again I am looking forward to trying it.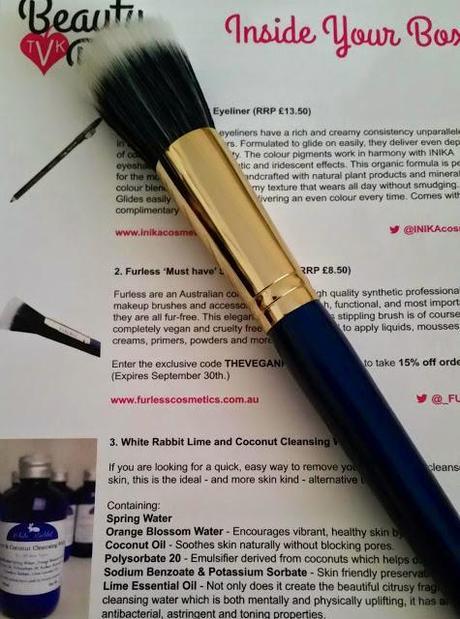 A stippling brush by Furless Cosmetics. Being Vegan this brush is synthetic. I haven't had chance to use it yet, but it feels incredibly soft.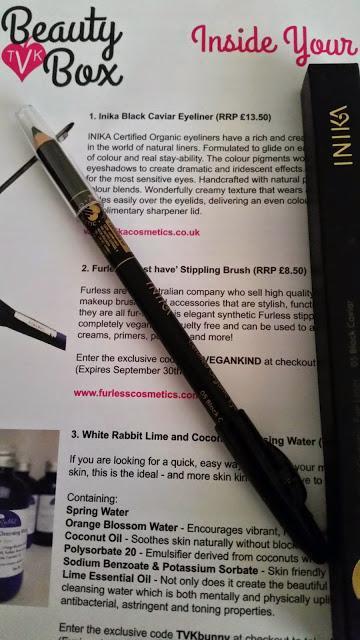 Inika Black Caviar Eyeliner I really like Inika, although they are not cheap to buy, their products are always really good quality. This is a certified Organic product. I have used their eyeliners before and like them, so this will definitely be used. Black eyeliner for me is a staple product so I am always grateful for another. I think this is a fantastic first beauty box from The Vegan Kind. It is a nice mixture of skin care and makeup. I like that there are a few familiar brands aswell as some new brands to try. I am pleased to see smaller artisan companies amongst the box too. I hope it won't be too long before another box is released.