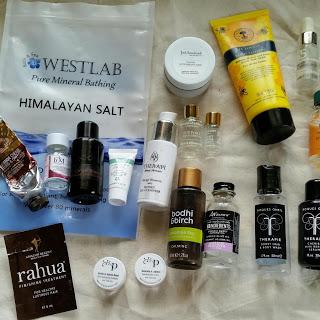 I am starting the New Year on a mission to use up as much as possible. I am especially keen to use up more of my samples and be a bit more ruthless with products that don't work for me.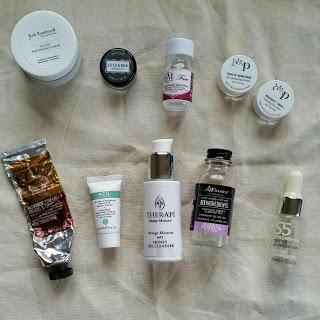 My first empty is one that I just haven't got on with at all. I know a lot of people love Josh Rosebrook Cacoa Antioxidant Mask, but it does nothing for me. I find the texture too dry, and it doesn't seen to improve my skin in any way.
I have used a sample of Lulu and Boo's Berry Brightening mask before and liked it. This time it left my skin bright red. I am not sure if the formula has changed or I left it on too long, but I won't be buying the full size.
FOM Overnight Rose Repair Serum was a fantastic treat for my skin once or twice a week. Would buy again once I have used up some of my other serums.
PaiKukai &Jojoba Bead Skin Brightening Exfoliator. I was very impressed by this, but again have so much to use up that I wont repurchase straight away.
Pai Avacado & Jojoba Hydrating Day Cream. I got a couple of days use out of the pot and enjoyed using it. possible repurchase in the future.
The Body Shop Almond Hand & Nail Cream. I really like these hand creams and am sure to buy again in the future.
Ren Jojoba Microbead Purifying Facial Polish. I much preferred the Pai sample to this so wont be repurchasing.
Therapi Orange Blossom Gel Cleanser. This is a lovely little cleanser. I want to try the Rose version next.
S.W.Basics Makeup Remover. I prefer to use this as a facial oil, rather than to remove make up. Possible repurchase.
S5 Skincare Replenish Serum. My skin absolutely loved this. Full size is definitely on the wish list.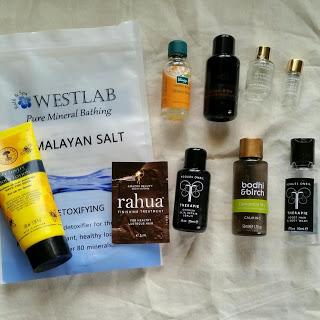 WestLab Himalayan Salt. Cheap and cheerful, but certainly do their job. I have a couple more of these in my stash.
Kneipp Stress Free Herbal Bath. These are wonderful too, but their are other fragrances I prefer.
Bodhi & Birch Ginger Brew. This is great for massaging into sore muscles, or for adding to a bath. I have a couple of these travel sizes tucked away.
Aromatherapy Associates Bath & Shower Oils in Support Equilibrium and Support. These crop up regularly in my posts, they just work so well. I have quite a few more to use up.
Neals Yard Bee Lovely Body Lotion. I love the citrus fragrance of this. I still have another one of these to use.
Rahua Finishing Treatment. I used this as a leave in conditioner and loved the way it makes my hair look. However I hate the fragrance. It reminds me of furniture polish and it is not a cheap product to buy. I have another sachet of this to use, but would only buy if it was on special offer.
Roques ONeal Therapie Cherish Skin Repair Serum. I simply love this. I have another travel size to use. I will be rationing the next one as I got through this far too quickly.
Bodhi & Birch Camomile Sky Bath & Shower Therapy. I enjoyed using this, but this isn't my favorite fragrance. I will buy another scent.
Roques ONeal Therapie Boost Hair & Body Wash. This is lovely and refreshing, and I think will really come into it's own in warmer months. Would happily buy this again.