The Ultimate A-Z of LGBTQ in Antwerp.
A guest post by Timothy Junes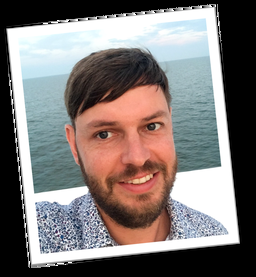 Timothy Junes (left) was born in Antwerp (1981) and still lives and works  here. He studied journalism and has written for LGBTQ media since 2000, both online and in print. His passions include LGBTQ news stories and traveling to new places. Nowadays he runs the Flemish language LGBT news blog Be Out and the English language travel blog Trip By Trip
*
Antwerp has a long history of being a safe haven for lesbian, gay, bisexual, transgender and queer people in Belgium. Let me in introduce you, using the alphabet.
First, I'll start with a disclaimer: this is not a 'Complete Gay Guide to Antwerp'. That would be impossible since Pink Antwerp is constantly changing. Some blame the internet, some blame the economy and gentrification, some blame youth. There are many factors as to why LGBTQ oriented bars and cafés come and go. I should point out here that bars and cafés mostly cater to gay and bisexual men. Presently there's no lesbian bar in town.
A
Active Company is Antwerp's LGBTQ sports group. From athletics to swimming, from cycling to yoga, Active Company has it all. A great way to make friends.
Antwerp Pride is a highpoint of LGBTQ life in Antwerp. Four to five days to party, parade or attend a debate. Mark the second weekend of August in your calendar.
Coupled with Antwerp Pride, there is the Antwerp Queer Arts Festival. Exhibitions, performances, parties. While Antwerp Pride is more 'party oriented', the queer arts festival is more activist. Both work well together. First half of August.
MAS museum lit up in Pride colours
B
The Bonaparte at the Grote Markt is a karaoke bar. But with a gay owner, it won't surprise you there are drag nights and gay parties. Pannekoek on Sundays.
D
I'm not sure the managers of Den Draak like to call their bar a gay bar. Patrons are both LGBTQ and straight. It will throw a very gay Eurovision Song Contest viewing party, and it will also celebrate the Red Devils, Belgium's football team.
Located at the Draakplaats, it's very well integrated in the hipster, somewhat leftist neighbourhood of Zurenborg.
Café DeLux at Melkmarkt 16 is in the middle of it all. DeLux is what you could call a 'mainstream gay bar'. Coffee and tea during the day, alcohol at night. Don't forget in Belgium a café could both be a coffee and snacks place, and a bar!
E
Enig Verschil is the LGBTQ youth group of Antwerp. Flanders has a tradition of youth groups outside the scouting movement. For many LGBTQ's in Flanders, such youth groups were a starting point.
F
Are you a student? Why not join De Flamingo's? Student clubs in Belgium are not really like American style fraternities; they're more open.  
H
H.I.M is a more or less monthly party concept. H.I.M is really 'club scene' as you'd imagine it: beats, shirtless men, flirting… People come from far and wide to attend.
The Hessenhuis at Hessenplein opened its doors in 1993. During the day it serves as the cafeteria of the event space Hessenhuis, but around 6PM the atmosphere changes and it becomes a gay bar.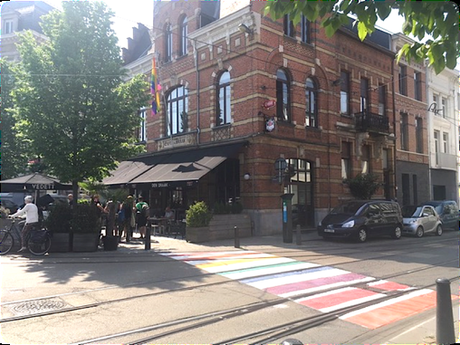 Het Roze Huis – çavaria Antwerpen (pictured above) is both a brick 'pink house' and an umbrella organisation for LGBTQ groups and associations in the Province of Antwerp. It organises the Antwerp Queer Arts Festival and L-week
Each January, Het Roze Huis holds a New Year's reception under the bridge of Draakplaats. An absolute must-attend event for LGBTQ's in Antwerp. Beware! Due to engineering works on the bridge, the New Year's reception will for once take place at De Roma. Mark 5 January 2019 in your calendar.
The offices are above Den Draak.
K
The Antwerp gay scene is not shy of kinky spots. The Boots in the Van Aertdtstraat and The Kinkys in de Lange Beeldekensstraat are too nice examples.
L
Leather & Fetish Pride Belgium in February accommodates lovers of leather, fetish and kinks. It consists of parties, socials and a fair. Darklands includes shops, workshops and activities for leather, fetish and kinks. If you open your eyes, you will definitely see men in leather, rubber and other fetishwear in the streets of Antwerp. The event mostly caters to men, but not exclusively.
There may not be L*-oriented bars in Antwerp but you can attend L-week in November. Ten days filled with activities, workshops and parties for women who like women. The asterisk stands for a broad interpretation of the word lesbian.
Q
Que Pasa in the Lange Koepoortstraat 1 is a latin drag queen bar. It organises performances and drag contests. It's near one of the rainbow crossings.
R
The Red & Blue was founded in 1997. Nowadays it's called Cargo Club but 'Red & Blue' remains its gay brand. It's the obvious party location and an icon in Antwerp.
S
Sjalot & Schanul is a lesbian run restaurant behind City Hall. The address is Oude Beurs 12.  
SPEK ("bacon") is a queer, 'alternative' party concept. Electro tunes, booze, cigarettes, other substances. Attracts queer, leftwing, hipster crowd.
Café Strange in the Dambruggestraat is the oldest, still open gay bar in town. Manager Armand Everaerts is well in his 80s but still serves you cheap beer. A special place.
Strangelove – A Queer Festival is a June based event. It combines film, performances and parties.
T
T-day is a day of activities, workshops and meet-ups for trans* people, their friends and their families. It is organised by çavaria, the Flemish LGBTQ umbrella organisation.
Café Twilight used to be located in the Van Schoonhovenstraat or Rue Vaseline. In the 20th century, the Rue Vaseline is where all the action happened. Twilight closed there but rose like a phoenix at Theaterplein.
U
The Unicorn Festival in July is not an exclusively gay event, but with such a name it clearly attracts LGBTQ people and their friends. Belgium is famous for its numerous summer festivals and Unicorn is one of them. It's small but very cosy. It's on Linkeroever (Left bank) and offers a great view of the Antwerp skyline.
All photos by Timothy Junes.

Find & Follow Nessascityblog

Facebook (Events in Antwerp: in conjunction with London Calling)
Twitter & Pinterest & Instagram