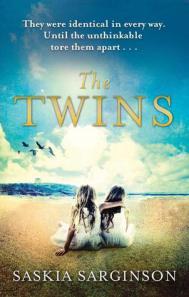 What's it all about?:
They were inseparable until an innocent mistake tore them apart.
Growing up, Viola and Issy clung to each other in the wake of their mother's eccentricity, as she dragged them from a commune to a tiny Welsh village. They thought the three of them would be together forever.
But an innocent mistake one summer set them on drastically different paths. Now in their twenties, Issy is trying to hold together a life as a magazine art director, while Viola is slowly destroying herself, consumed with guilt over the events they unknowingly set into motion as children.
When it seems that Viola might never recover, Issy returns to the town they haven't seen in a decade, to face her own demons and see what answers, if any, she can find.
A deeply moving, gripping debut, this is a novel about the secrets we carry, and the bonds between twins.
What did I think?:
This fantastic debut novel was chosen as part of the Richard and Judy Autumn Reads for 2013, which is where it caught my eye. Although I follow the Richard and Judy book club choices somewhat religiously, I still think I would have picked this book up as it has such an interesting premise. Our main characters are twins, Isolte and Viola who have had an "interesting" childhood to say the least. Their mother was a bit of a free spirit, and lived with the children in a commune before uprooting them all to live in a cottage in the woods in a remote Welsh village. Growing up the twins were incredibly close despite having completely different personalities. Issy is more confident and popular at school, often taking the lead for her quieter and more thoughtful sister Viola. While living in the cottage they meet another set of twins, two boys, and form a strong and important friendship that sets the ball rolling for significant events that haunt them well into adulthood.
As adults, Issy is a successful fashion editor for a magazine, and lives an exciting life of glamour and parties with her photographer boyfriend. Viola on the other hand, is in hospital with a severe eating disorder and is being kept alive with a feeding tube. Viola is haunted with memories of her childhood, which were very unhappy as being the quieter twin she was considered "weird" and constantly felt as if she was in her sister's shadow. Then things start breaking down for Issy also when she loses her job and questions her relationship. Both Issy and Viola are then forced to confront the demons of their past which includes their relationship with their mother and with each other. Old secrets are unearthed, and their sisterly bond is threatened, but can they find answers to all their questions?
I really enjoyed this novel and thought it was an impressive debut from a talented author. I loved that we got inter-linking narratives from both twins, and the story switched constantly between the past and the present. This switch between the past and present often happened between paragraphs, so the reader has to be on their toes to pick up who is speaking etc.. at any given time and I did find this was slightly difficult at times. The author is a mother of twins herself, so I felt this added a bit of authenticity to the tale, and I appreciated the fact that even though the twins were identical, they had completely different personalities which made the story more interesting. Why only three stars? Just because the switch between time periods was slightly confusing at times, and made the writing slightly clunky. I will however be watching out for whatever this author does next, as I think The Twins shows huge potential.
Would I recommend it?:
Probably!
Star rating (out of 5):