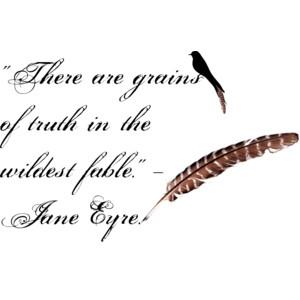 It's no secret that I love quotes, books and fonts - I've written about them all before.  Today's, super quick post - it's Saturday and I've got some outdoor-life stuff to do with my family - is a quote from Jane Eyre;
"There are grains of truth in the wildest fable."

I love it.  I'm also loving the rather scratchy font "Porcelain" which you can find at this font site (scroll down on the web page to see it).  You have to work a little hard to read it - but that's half the fun - imagine the effort required to write with an old-fashioned feather quill... hmmm... a feathered-quill; another thing to add to my covet-list!
Off to enjoy the Australian Sunshine on a particularly glorious Spring day... and throw another basket of washing on the line... ahh... motherhood!