Thanksgiving's almost here and that means pie!  Pecan pie, pumpkin pie, sweet potato pie...the varieties are endless.  For those of us who are vegan, pre-made pie crusts usually don't work as they tend to have egg in them.  For those of us who adhere to a gluten-free regimen, the usual flour base is also an issue.
When I was at my local health-food market I was looking for alternative flours and found both coconut flour and sweet rice flour.  How could I resist?  My Great Aunt Belle was famous for her pecan pies.  It turns out isn't was the Karo Corn Syrup recipe which we were devastated to learn after she died.  It was no more original than Phoebe Buffet's grandmother's sacred Nestle Toll House cookie recipe (Friends reference for those who are lost on the comparison.)  But now I'm determined to become famous for The Trendy Vegan version!  And mine's not only original, it's also vegan and gluten-free.If you have trouble finding exactly these flours, you could try brown rice flour or even corn. I think the corn might be gritty so you might want to add some maple syrup to the dough to bind it a bit better than these smoother flours require.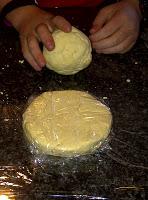 My son, the aspiring chef, rolling out
his ball of dough
You will need:
1 cup coconut flour
1 1/4 cup sweet rice flour
1 cup non-dairy butter (I use Earth Balance)
1 tsp salt
1 tsp organic light brown sugar
1/4 cup coconut flakes (or 1/4 additional coconut flour)
8 TBSP cold water
Combine all of the dry ingredients and put them into a metal bowl using a stand up mixer, preferably with the dough hook attachment.  (I would try to avoid a whisk as it might make this gluey.)Once everything gets a bit combined, add 1 TBSP at a time of cold water, until you reach all 8.Continue to blend in the mixer, stopping to help combine the ingredients with a plastic spatula every now and then, until firm crumbles start to form.Using the spatula, combine the crumbles into one large dough ball and then divide in two.Place each half onto plastic wrap and reshape into a 2" disc and wrap in the plastic.Refrigerate for at least one hour, and at most 2 days.  You can either use one disc for the bottom of the pie and one for the top, either with a cutout design or lattice, or make two bottom-crusts, each for one 9" pie.What you'll need for the filling:2/3 cup corn syrup2/3 cup maple syrup1/2 cup non-dairy milk2 1/2 tsp vanilla1 1/4 tsp cinnamon3/4 tsp ground ginger1/4 tsp salt3 cups whole pecans1 TBSP ground flax seedPreheat the oven to 350 degrees.Roll out your pie crust and spread it into a deep 9" baking dish.  It may seem to crumble, but with your fingers, you can bring it together nicely in a thin layer.Prick the crust in various spots with a fork and then place the pecans into the crust, and bake for 20 minutes.While that bakes, whisk together the syrups, milk, vanilla, spices and salt in a medium stock pot on a medium flame until it comes to a rapid boil.  WATCH THIS CAREFULLY so you don't get burned (or ruin your stove top!)Remove the liquid from the heat and whisk in the flax seed.  The smells in your kitchen will be amazing by now!After 20 minutes, remove the pie shell from the oven, pour the liquid mixture over the pecans, and return the pie crust to the oven on a baking sheet to bake fro another 30 minutes.  Let it cool slightly and serve or refrigerate and serve the next day.  It is delicious!  The filling is absolutely killer... When I make it next time though, I may use half of the second ball of dough for a thicker crust ~ mine is very thin and a bit chewier than I'd have wanted.  I'd use the remaining dough for a design on top of the pie.  Pecan pies last a few days and freeze very well.  
HAPPY THANKSGIVING ~ I AM THANKFUL FOR ALL OF YOU!