Beautiful footwear is something that every woman can understand stretching the budget for now and then. Yet throughout history there have been some culturally iconic shoes that also boast price tags that truly defy logic.
From the film set to the red carpet, here is a look at ten of the most costly shoes ever produced.
10. Diamond encrusted Nikes
Nike has become the darling of the uber rich rap industry, as seen in their Diamond-Encrusted Custom made Nikes. Worn by rapper Antwan 'Big Boi' Patton, they cost an estimated $50,000.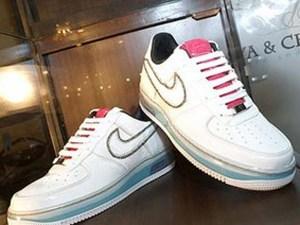 9. Indian Prince's slippers
From rap royalty through to the real deal, these iconic shoes were owned by the Indian Prince Nizam Sikandar Jah of Hyderabad. Valued at around $160,000, they are decorated with rubies and diamonds.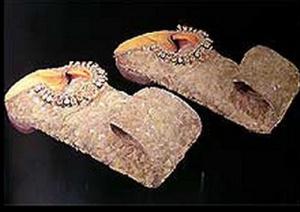 8.Diamond Dream Stilettos
Designed by Stuart Weitzman, these dazzling stilettos fetched around $500,000 and are set with 1,420 Kwiat diamonds. They were spotted on the red carpet worn by Dreamgirls actress Anika Noni Rose.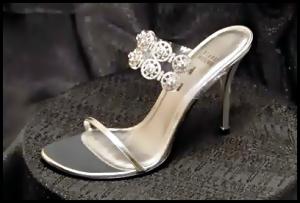 7. Ruby Slippers
Perhaps one of the other most famous shoes throughout history, Dorothy's Ruby slippers in the Wizard of Oz were made famous by actress Judy Garland. Since the film the worth of the shoe has skyrocketed to $666,000.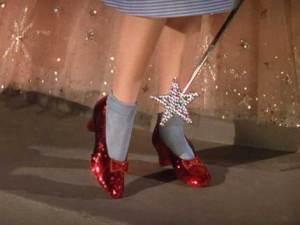 6.Stuart Weitzman Retro Rose Pumps
Another one of Stuart Weitzman extremely expensive designs, the Retro Rose Pumps would fetch a stunning $1,000,000. The shoe features 100 carats of brilliant cut diamonds to create a beautiful delicate rose. Screenwriter and director Diablo Cody sparkled down the red carpet in them in 2008.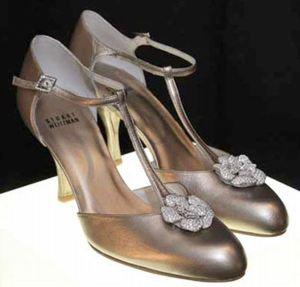 5. Platinum Guild Stilettos
When Mexican actress Laura Harring wore Weitzman's stunning gold stilettos in 2002, she was escorted down the red carpet by a team of bodyguards. They are valued at a gobsmacking $1,090,000.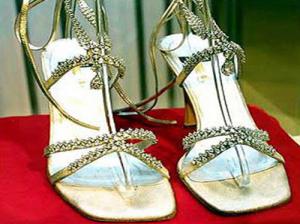 4.  Stuart Weitzman's Ruby Slippers
Yet again, Stuart Weisman features for his decadent design with this appropriation of the classic story footwear. In this case, valued at $1,600,000 the rubies were real!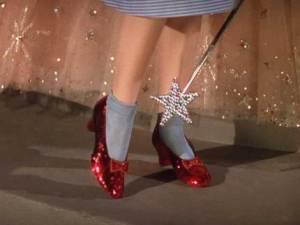 3. Stuart Weitzman's Tanzanite Heels
Made with 28 carats of diamonds along with 185 carat tanzanite, the shoe that comes into third position was designed yet again by Stuart Weitzman. The incredible Tanzanite Heels are said to fetch around $2,000,000.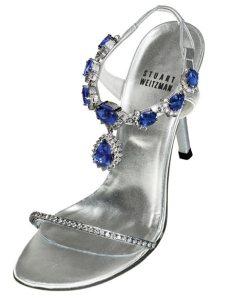 2. Stuart Weitzman's Cinderella Slippers
Taking up the number two spot is an appropriation of another classic shoe from fiction; Cinderella's iconic glass slipper. Stuart Weitzman's modern day interpretation was worn by singer Alison Krauss at the 2004 Oscars. These stunning womens shoes are estimated to cost a whopping $2,000,000 and the height of the 'slipper' boasts a four and a half inch stiletto.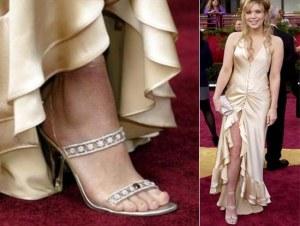 1. Stuart Weitzman's Rita Hayworth Heels
Taking inspiration from the iconic leading lady, the fabulous Rita Hayworth Heels is the final shoe to make the list by Stuart Weitzman. He's a worthy winner, with the price tag coming in at $3,000,000. The link to the fabulous actress can be found in the intricate jewelled design of the shoe, which incorporates a pair of earrings that were favoured by the film legend.