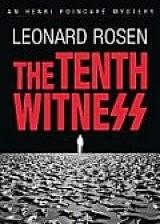 I was surprised to receive an advance reading copy of Rosen's second book in the mail -- but the accompanying letter mentioned that as I had reviewed his first book (which I'd received by mistake,) I might enjoy his second. And, of course, they hoped I might review this new one as well.
Well, it wasn't a very in depth review. But I did enjoy All Cry Chaos, the first  book, and was more than ready to plunge into the 'prequel,'  The Tenth Witness.
It doesn't disappoint. Great descriptions of  the Dutch coast which made me think of Reader Wil and  a fascinating tale of the varied legacies of World War II and the survivors if the Nazi death camps.  It raises legitimate questions about the morality of the Allied nations who recruited ex-Nazi scientists, quietly overlooking the complicity of those same scientists in the Nazi agenda. his is a mystery for a thinking person -- and a terrific read as well. But don't take my word for it -- here are some of the stellar reviews Rosen has received.
"This is a complex, dark, and disturbing story, beautifully told and based in part on history. Poincaré s character is deeply developed, as Rosen combines a probing Holocaust story with elements of an action thriller. A fine novel and further indication that Rosen is a writer of immense talent."--Booklist, starred review


"In Rosen's strong prequel to his 2011 debut, 

All Cry Chaos

, Henri Poincaré, not yet an Interpol agent, uncovers a startling secret that brings back the ghosts of WWII...Rosen writes with polish and confidence."--Publishers Weekly




"This is a prequel to Rosen's acclaimed mystery debut, 

All Cry Chaos

, which was set 30 years later when Henri was working as an Interpol investigator. Rosen relies on literary background and considerable research skillfully to portray Henri's confrontation with the nature of evil and his developing detective talents in investigating both dead Nazis and living ones. Another winner." --Library Journal




"If it's hard to wring new headlines from Nazi industrialists, Rosen uses this familiar background to tell a story as heartfelt as it is ambitious."--Kirkus Reviews




"

The Tenth Witness

 offers a thoughtful treatise on what it is to forget, to forgive, and to take responsibility for the past. In Henri Poincaré, readers of all ages can appreciate the terrible beauty of a life lived with love for others.--ForeWord Reviews