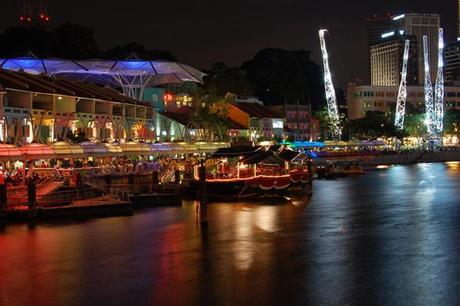 Clarke Quay and Singapore River (Photo Credit: edwin.11)
Article first published as The Ten Singapore Experiences I Miss by The Lost Boy Lloyd on Technorati.
Orchard Road – I could not afford perhaps half of what's sold in Orchard Road, but walking along this mall-lined road is a satisfying experience by itself. You've got Gucci to your left, and Louis Vuitton to your right. Singaporeans love to shop, and that fact is supported by the number of malls at this road.
Kaya Toast and Chicken Rice – Singapore's favorite snack and meal, respectively. The unique dip consisting of half-boiled eggs, pepper, and soy adds excitement to the delicious kaya and butter sandwiched between toasted bread. Chicken rice, meanwhile, is so simple, but the flavors are refreshing. Both are best downed with a cup of Horlicks.
Sentosa Island – A day (or even three) isn't enough in this island. In this island are the many attractions of Sentosa, Resorts World, and Universal Studios Singapore.
Affordable Clothing – It helped that we went during the annual Great Singapore Sale. My hands were full with my loot from Zara, Topman, Uniqlo, and Cotton On. Some items were deeply discounted, and tourists received extra discounts.
Clarke Quay – It may arguably be the most vibrant area in Singapore. One will not run out of choices among its restaurants and nightlife spots. As we cruised along Singapore River, we witnessed how alive this place is.
American Comfort Food – Ironically, only in Singapore have I tasted food from American chains that are not in the Philippines. I've tried fish and chips from Long John Silvers, a sub from Quiznos, scoops from a Ben and Jerry's Scoop Shop, and the Famous Star burger from Carl's Jr.
MRT – Currently comprising of an impressive 79 stations and 129.7 kilometers of track, Singapore's MRT system is an efficient way to get around the small city-state. I myself felt the rush inside its well-maintained stations and coaches. Some of its stations are connected to malls, too.
Universal Studios Singapore – The second of its kind in Asia, Universal Studios recently had its grand opening last May. I went in when it was only soft-opened, but now, it features new attractions, such as the thrilling Battlestar Galactica dueling coasters. It's one big reason for me to revisit.
Singapore Changi Airport – An engineering and architectural marvel, this airport is like a city by itself with three main terminals, a budget terminal, and a commercially important persons terminal. This major Southeast Asian aviation hub also hosts a multitude of amenities, including a swimming pool. No wonder, it is often admired to be one of the best airports in the world.
Marina Bay – Marina Bay is an iconic visual spectacle. Surrounding it are what mesmerized me: the Marina Bay Sands, the Singapore Flyer, the Helix Bridge, and the Esplanade. Also within its vicinity is Suntec City, a hub for commerce, and the street circuit where the annual Singapore Grand Prix is held. Truly, it is where one can explore, exchange, and be entertained.