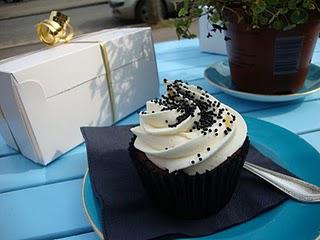 Gluten-free chocolate and vanilla cupcake
I have been visiting The Sweet Tooth Cupcakery in Chorlton for some time now with work colleagues. Whatever the occasion, birthdays, leaving dos, or because its summertime, there's always a reason for cake!
The range of cupcakes is outstanding, each names after a famous person or character, whether it is Kylie, Willy Wonka, David Niven, or Iggy Pop. They are all handmade within the shop (or at their Northern Quarter cafe) and are decorated with  a mixture if sweets, sprinkles, glitter etc, all having some relevance to the name.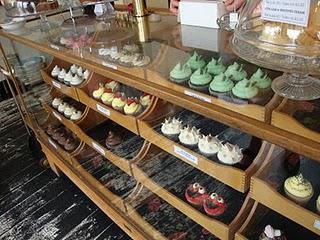 Some of the range available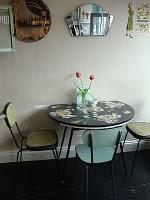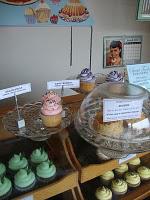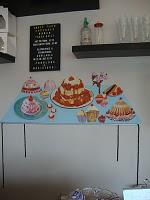 The Sweet Tooth Cupcakery in Chorlton had a few tables inside and out and is decorated with kitch pictures, artwork and fittings. They serve a selection of drinks; a coffee, herbal tea, smoothie or sherbet or their rather special hot chocolate (definitely get it with cream!).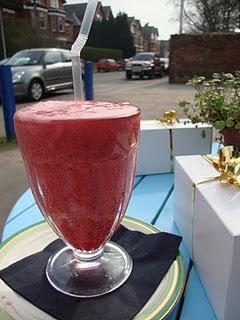 Red Fruit Smoothie
Their second cafe in the Northen Quarter calls itself a milk bar, and as I've yet to visit, I can only assume they offer a wider range of shakes and smoothies than at the Chorlton shop.
One thing to note is the range of dietary requirements they cater for. They generally have at least 2 gluten-free cupcakes to choose from and 1 vegan cupcake. On my last visit, they also had slices of gluten-free carrot cake available.
This visit I chose a chocolate and vanilla (meaning chocolate cake and vanilla icing) cupcake and a red fruit smoothie, and my friend chose the Willy Wonka with a cappuccino. I also chose the chocolate and chocolate (meaning a big chocolate hit!) and the Willy Wonka to take home. The packaging is almost as lovely as the cupcakes themselves. Each box is hand tied with a ribbon and sometimes decorated with stickers saying "Bite me" or simple love hearts.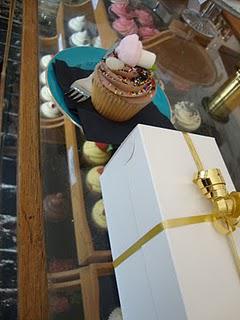 Willy Wonka cupcake and parcel to take home
I spent over £8 so the Cupcakery isn't cheap, but certainly worth a visit to sit and relax with tea and cake, or that special treat to take home. If wondering what to drink - go for the hot chocolate, you will not regret it!