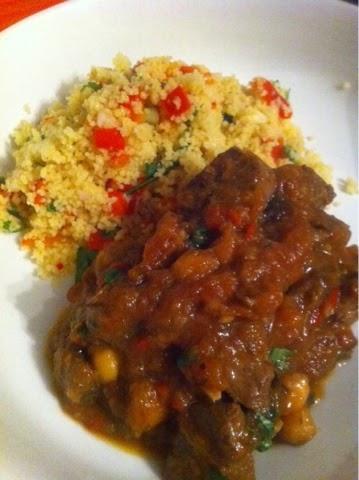 Bit of an odd post.
Yes, it has been a while - not excuses really. We just haven't posted. But something external to this blog has prompted this flurry of action.
I've recently made a to do list of things to achieve/see/try before turning 40, and one of these is to get back to writing this blog. So there you go! Done. Another thing on the list is to cook something from every recipe book we own. For normal people this might be a simple task, but we have a recipe book problem. There are over 120 books on our shelves. On top of the shelves too. And by the bed.
So here I am tying 2 things from the list together. I am documenting the journey of ticking everything off the list on another blog: http://todobefore40.blogspot.co.uk/, but obviously here will be all about the food.
So here is the first rather tasty and successful attempt at getting through all those books. (Don't worry, we wont start copying everyone's recipes on to here for the next however many posts. Just a few to note, and to remind ourselves on what we particularly liked when looking back).
This came from Jamie Oliver's The Naked Chef. A book which I picked up from a charity shop some time ago. We have quite a few Jamie Oliver books, and the recipes do seem to be reliable and easy to follow. We'd been fancying a bit of lamb recently, and also some kind of Moroccan dish, so the North African Lamb with Chilli, Ginger, Chickpeas and Couscous seemed ideal.
The recipe called for salting and draining the aubergines, something we'd never actually done before as I wasn't ever too convinced about the point, but I followed the recipe and did just this. I say followed the recipe, it transpired I did mis-read a couple of bits. I halved the quantities as I was only cooking for the two of us, but I missed the bit about halving the salt for the aubergines. When I came to squeeze them out there wasn't that much liquid, and not a lot had drained either, so I am still non-the wiser about the actual point. The inappropriate amount of salt was reflected in the overall dish, but it didn't spoil it - I didn't need to season it anymore at the end, but we did have a slight thirst on later!
Also, I did keep it on the hob longer than specified as eating timings with a 3-year-old in the house are always hit-and-miss. Maybe this is why the aubergines, as well as the tomatoes melted away into the sauce, but we didn't complain. The other slight confusion was over the chickpeas. I used canned chickpeas but the recipe said dried, soaked overnight and then cooked. So I didn't really know the quantity to put in. Having said all this, it was all very lovely indeed, and we will be using this recipe again. We served it with the Couscous salad from the same book which was couscous mixed with roasted pepper, shallot and garlic, dressing with lemon and olive oil.
So here is the recipe, word for word from The Naked Chef book:
Serves 4-6
170g/6oz chickpeas, soaked overnight
2 large firm aubergines
salt and freshly ground black pepper
10 fresh plum tomatoes
1 1/2 tablespoons coriander seeds
1/2 teaspoon cumin seeds
grated nutmeg to taste
4 neck fillets of lamb (285g/10oz each), sliced into 5cm/2 inch pieces
4 tablespoons olive oil
4 medium/large chillies
2 tablespoons grated fresh ginger
2 cloves of garlic, finely chopped
1 teaspoon vinegar
2 tablespoons chopped fresh parsley
1 tablespoon chopped fresh coriander
couscous
Drain the soaked chickpeas. Cover with water, bring to the boil and cook until tender. Chop the aubergines into rough, chunky 2.5cm/1-inch size dice and place in a colander over the sink. Sprinkle with salt (about 1 tablespoon). This will dehydrate the aubergines and drain away some of the bitter juices (leave for about 1/2 hour). Blanch the tomatoes in boiling water, remove the skins, deseed and quarter.
Using a pestle and mortar, pound up the coriander seeds, cumin seeds and 1 teaspoon salt, then put into a bowl and add 12 gratings of nutmeg Toss the lamb into the mixture and stir well to coat. Heat a large casserole pan, add 2 tablespoons of olive oil and sear the lamb until dark golden brown.
Gently squeeze the excess liquid form the aubergines (this will take away most of the salt too). Add 2 more tablespoons of olive oil to your hot pan and fry the aubergines with the lamb for about 2 minutes, keeping everything on the move. Add the chilli and ginger and cook for 3 minutes. Then add the garlic and cook for 1 minute (still stirring, s as not to over-colour). Ad the vinegar and tomatoes and shake now and again. Turn the het down to a gentle simmer, place a lid on and leave for 1 hour, then add the cooked chickpeas and simmer for another 5 minutes. The tomatoes should have melted to a sauce and the aubergines should be sweet. Check the seasoning and stir in the parsley and coriander. Serve with couscous.