Here's another recipe from one of the many recipe books in the house. And another step towards the goal of actually cooking something from each book which is something on The List of things I have set myself to do before I am 40.
The book it is from is Tastes of China by Jacki Passmore. I can't find out much about the book, or about the author but it seems that the book is quite rare now, although it does seem that second hand versions are available from various sources.
We've never actually cooked from the book, possibly because that upon reading there are a number of ingredients that seem scary and not available in a normal supermarket, and I think this book has been on the shelf a while. More recently, we've discovered the joys of China Town and the various oriental supermarkets in town so we regularly have more of the exotic sounding ingredients in the cupboard and fridge like shaoxing rice wine, thai fish sauce, shrimp paste, sriracha chilli sauce and chilli bean paste.
We were looking for something exciting to cook from this book, and to be honest, pretty much every recipe seems quite exciting and out of the ordinary for us. Perhaps because it listed real ingredients rather than just "chicken, peppers, and a jar of sauce" as so many Chinese recipes seem to from certain sources. We chose the Stir-Fried Shrimp in Hot sauce as we fancied something a bit spicy, and pretty much had all the ingredients in.
The recipe involved deep frying the prawns after they had been marinated and then coated with egg white and cornflour, so it was a little bit of an epic one. But the finished dish was worth it. The recipe said 1-2 tablespoons of chilli bean paste and we used just the one. This made the dish borderline in it's heat. Any more and it would have been too hot for us - so we'll know not to be tempted to add more next time. And there will be a next time - it was lovely, very tasty indeed. We served it with very lazy straight-to-wok noodles. They were a bit odd, a bit bouncy, and a bit clumpy, but worth a try if only to satisfy curiosity.
The only thing that bothered us is the rubbish photo, but hey ho, nevermind.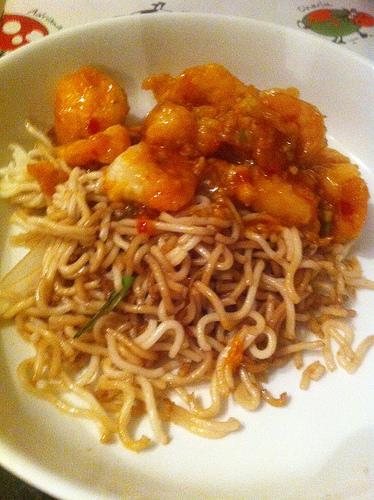 Recipe:
375g raw shrimp, peeled
3 teaspoons rice wine, ginger wine, or dry sherry
1 teaspoon salt
2 egg whites, well beaten
1/2 cup cornflour
oil for deep frying
Sauce:
4 spring onions, trimmed and minced
1cm piece fresh ginger, shredded
4 cloves garlic, crushed
2 tablespoons oil
1 teaspoon sesame oil
1-2 tablespoons chilli bean sauce (to taste)
1-2 teaspoons sugar
2 teaspoons cornflour
3/4 cup stock
Season the shrimp with the wine and salt and set aside for a few minutes. Make a batter of the egg whites and cornflour, adding a little cold water. Coat the prawns and deep-fry in hot oil until crisp and golden. Remove and drain on absorbent paper.
Stir-fry the onions, ginger and garlic in the oil for about 1 minute. Add the sesame oil, bean sauce and sugar. Cook briefly. Stir cornflour into the stock, add to the pan and bring to the boil. Simmer until thickened. Adjust seasonings to taste. Add the shrimp, toss quickly in the sauce and serve at once.