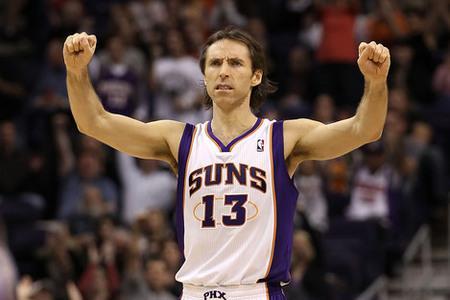 Photo: dc.sbnation.com
- Adam Parker
After getting blown out at home by an average at best Philadelphia 76ers squad, the Phoenix Suns are now off to an 0-2 start on the season and once again the Steve Nash trade rumors are on the horizon.
Now first let me just say that this is very tough for me to discuss being that I am a Suns fan and have been a Steve Nash fan since his Dallas days.
That being said, for the good of the organization, Phoenix should try to get the 'OK' from Nash to trade him before the trade deadline if they're not in contention and the right situation arises.
The 'rebuilding' process essentially started last year when the Suns elected to let Amare Stoudemire leave via free agency and sign a long-term deal with the Knicks.
That move left Nash as the lone bright star on an otherwise fading Suns team.
Now, I know Nash has been brought up in trade rumors countless times in recent years, but this might finally be the right time for the Suns to pull the trigger for the good of the franchise.
I hate to say it, but after seeing Phoenix struggle against a Chris Paul-less Hornets team and a 76ers team that, at best, will be a bottom seed in the Eastern Conference playoffs, it's fairly evident that the Suns' chances of making the playoffs are slim to none.
Nash has made basketball in Phoenix relevant again, and his loyalty to the franchise is undeniably commendable, but if the Suns are in a situation where they'll likely be watching the playoffs from their couches, they should move the 37-year old point guard while the league wide interest in him is still high.
It's unclear at this point what sort of return the Suns can expect to receive for Nash, and there's almost no chance that they'll get the value they're looking for considering Nash's importance to the organization over the past seven years.
All signs point to Nash being worth the most to a contender that needs help at the point guard position. The problem with that is, outside of maybe the Lakers, Knicks, or Magic, most of those teams aren't in dire need of a point guard, and therefore likely wouldn't be interested in paying the Suns' asking price for Nash.
Phoenix needs to do something though, because their current roster will not get them anywhere, and in today's NBA, you need to get worse before you get better.
The Suns appear to be setting in Phoenix, and though it pains me greatly to say it as a diehard Suns and Nash fan, it might finally be time for Phoenix to move Nash to a contender and give him a most-deserved chance at a ring.
Be sure to follow Beard And Stache on Twitter 
@BeardAndStache
, 
and also Adam 
@Adam_Parker43
, Like our Facebook page 
HERE
!