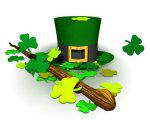 It's St. Patrick's Day, and you may have ingested a green beer or two. 
Do you know the state of opera in Ireland? 
As a part of a government plan to establish Ireland's first national opera company in 2011, something for which Opera Ireland has long campaigned and formally proposed to the Irish government in 2009, Opera Ireland has voluntarily wound down its opera producing organization and related services, as agreed upon at the end of a successful 2010 and almost seventy years of history as the main provider of professional grand opera in Ireland's capital city of Dublin. 
Following the 2010-2011 season, the planned hand-over to a new national company called Irish National Opera (INO ) will be completed. 
According to Niall Doyle, the Chief Executive for Opera Ireland, the first INO productions are now being planned  for 2012. 
Opera Ireland's Don G., 2009

 

When a national opera company in Ireland finally emerges, Ireland will no longer be the only European country without a national company. It offers a platform to provide Irish opera with the same levels of national recognition, commitment and support we have provided so well for other great art forms. Opera Ireland is taking the ultimate step of bringing down its own final curtain as a separate producing company. 

It is the sincere hope of all who care about opera in Ireland that Irish National Opera will be a great success and will incorporate and develop further the great artistic traditions, audience relationships and audience reach at the heart of the two companies on which it is to be built to make a positive move forward for opera and audiences in Ireland. 

–Niall Doyle