I wanted to make a house design fit for the international architecture design competition Design Against The Elements. But while doing the structure, the project grew on me and I suddenly just wanted to make a house design that is ideal for me. And I came up with this house. I didn't wanna let go of the Design Against The Elements theme so I was careful in creating this building with the competition's theme in mind.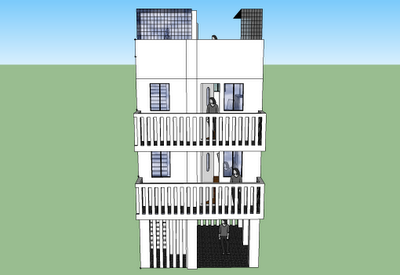 I came up with a four-story tall house that's very compact. I realized that the city is not growing any larger and large lots are gonna be very, very hard to find so I decided on a vertical development orientation for my house. I don't want to live up north or down south where commercial centers are very far away. If I wanted to do that, I would have made a house that has a horizontal development orientation.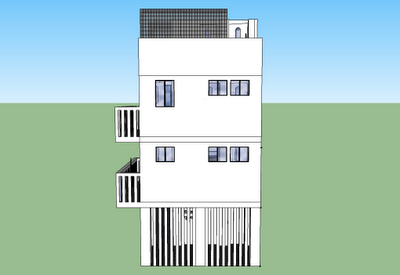 So anyway. The ground floor is the garage. The second floor is the living and kitchen areas. The third floor is my room. And the top deck would be my pocket garden and pool.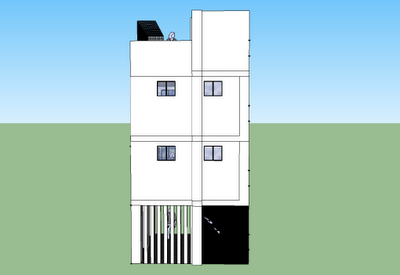 I made sure that all four sides of the building would have windows so that in the event of a power interruption, I would not suffer in my self-designed oven. Windows will also ensure less power consumption. Wind can circulate freely in and out the house and I won't have to use air-conditioning or electric fans often.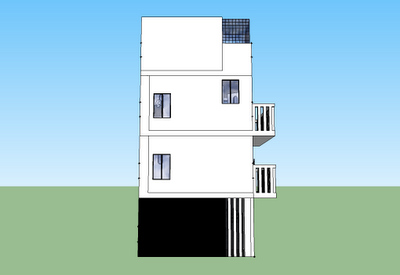 The abundance of windows also ensure well-lit interiors. In the day, I won't feel the need to have all the light turned on since I have so many windows. The light from the sun would just creep in. So that's two-in-one savings for the windows-a-plenty house.
So let's start with the floor-by-floor inspection.


Ground floor.

We can find the garage here, and the secret storage area. The garage gates are designed as thick and lengthy floor-to-ceiling posts so that if there's a raging flood, the flood water would just pass through my house. It's design against the elements like that.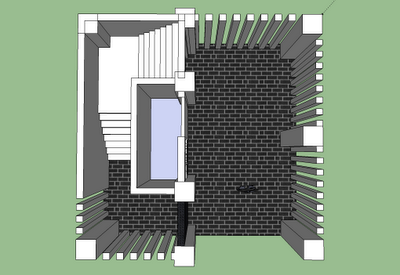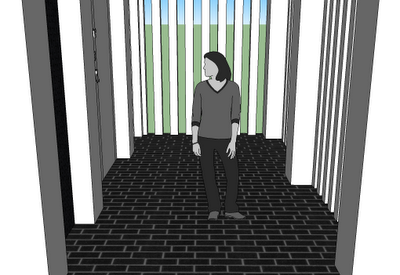 To add a little quirky, I've installed 3D letters that read "Do more than is expected" on one of the walls of the garage.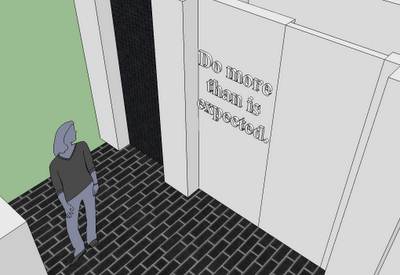 Meanwhile, on the inside of the main gate, I've installed "The door to SUCCESS is labeled PUSH." Because ever so often you have to push your luck, push your limit, push your creativity. Right? I know I'm right. LOL.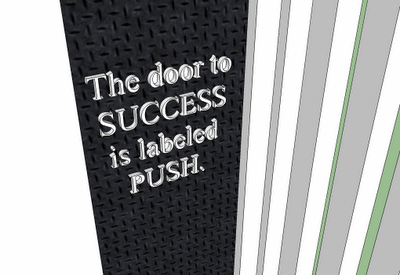 And that main gate leads to the stairs leading to my front door.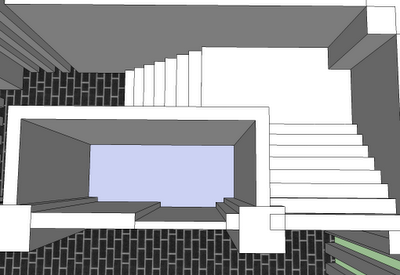 Second floor.

Here, you can find the kitchen, the dining area...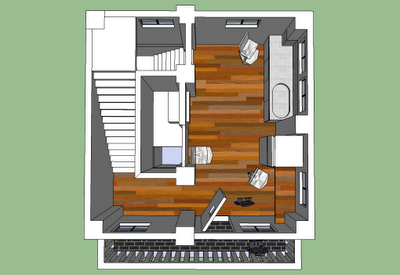 ...and the second floor of the secret storage where I have skillfully incorporated the air-conditioning unit in.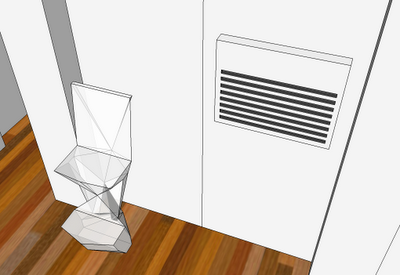 I hate clutter so everything from utensil to pans, dishes to glasses, are all in the cabinets. I've decided on an oval-shaped sink because I want my sink spacious. The only household chore that I like is washing the dishes and I don't know why. So anyway, I want my dishwashing time a fun time. Beside the sink would be the gas stove or electronic stove, whichever my moneypot allows me to buy.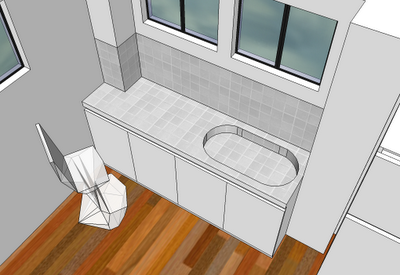 Then there's the fridge on the right of the sink. And a little more right would be the really high dining table. I made it so to look like it's a kind of a bar or a diner. You see here the debut of my first ever chair design, the "Ice."

READ ABOUT IT HERE.

I wanted my dining area to look like a table from an American diner of '60s or '70s fame.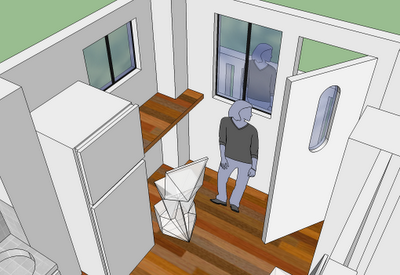 The door next to the dining area would lead to the balcony. My apartment at present has a balcony and it's really, really nice. Especially if I wanted to smoke, I can spare my room from smelling like cig smoke because I can just walk out into the balcony and smoke all I want.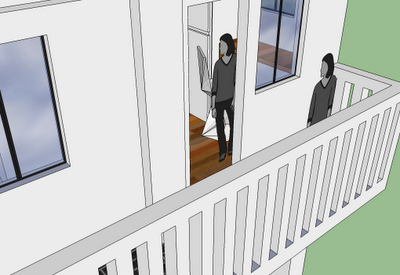 And the stairs to the third floor goes around the back. Just refer to the floor plan.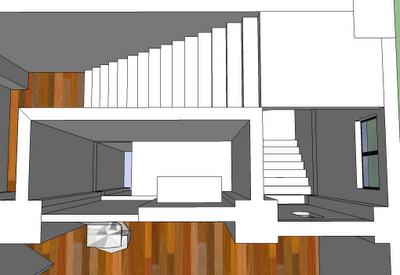 Third floor.

Here, you'll find my room. My room at my present apartment is pretty compact, neat, and clutter free and I expect that it would be the same wherever I live. Hence, my room on this ideal home follows the same respect.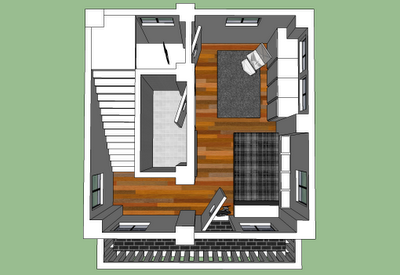 There's the access stairs and my very spacious bath. My friends all know I'm picky with restrooms and baths. I want a bath that I can sleep at, actually. So this spacious one that I had designed for my ideal home is just like that.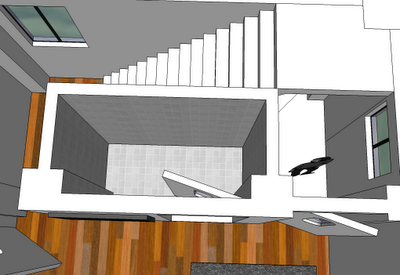 I've mounted an enormous flat-screen TV, preferably Samsung Smart TV if my finances permit me, on the wall outside the bath.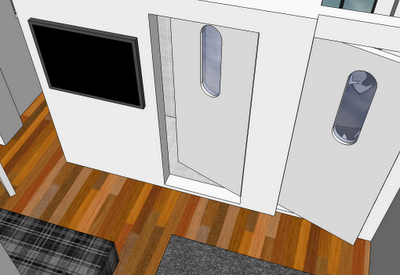 I'm planning to be the most famous all-around design super-power in the world and when that happens, I've already probably sold gigazillion Ice chairs. I would later adorn my humble abode with the chair that would hypothetically make me famous and glamorously rich in the future. Here's the Ice chair standing on the charcoal gray rug and in front of my cabinets.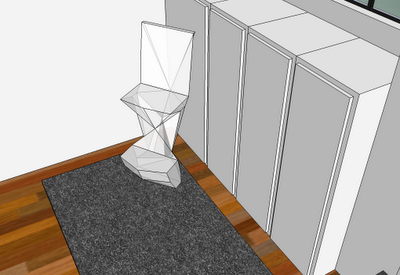 My bed is a low-lying bed in gray plaid bed covers. I love gray. Gray can make you look fairer, trust me. Wear gray clothing, too. I've also installed small cabinets against the wall, just beside the bed. I'm the kind of person that takes everything to bed--food, books, magazines, cellphones, laptops. Name it. So I need extra space to throw my stuff into or just place them on in case I get too sleepy to put them where they're supposed to be at----which is very often, actually.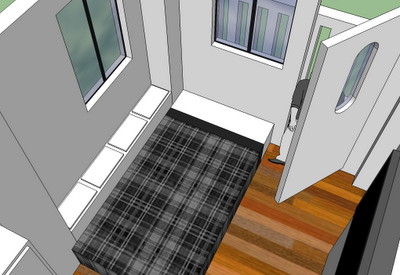 I've also added a balcony on this floor. I love balconies.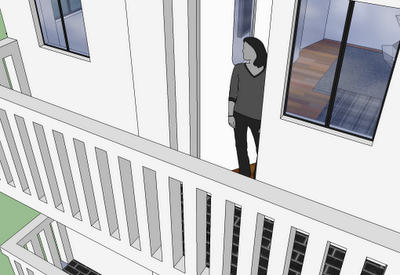 Here's the access stairs leading to the top deck.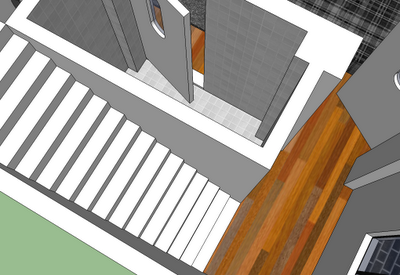 Fourth floor.

It has a pocket garden, a small pool, and a bath.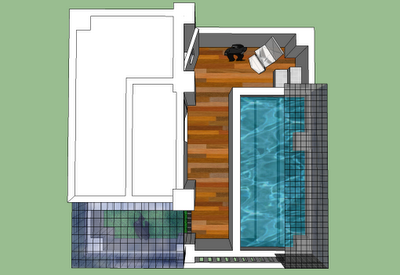 Plants are relaxing. I don't know if I have a green thumb but I kind of managed to keep one plant alive. Anyway. I want a mini-garden for relaxation and recreation purposes. Plus I want to grow veggies here just in case, you know.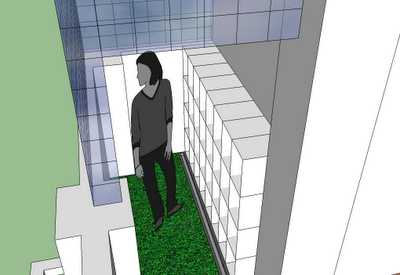 I don't want to be dripping all the way down to my room after a good soak in the pool so I decided on having another bath here in the top deck.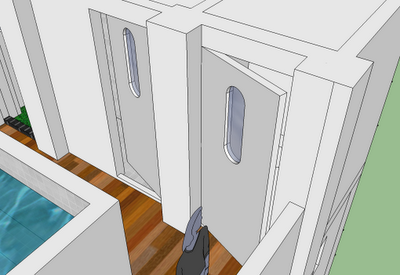 The mini pool is a frustration. There was this time in summer when I so badly wanted to go swimming and all I can afford was this swimming pool at an exclusive village which I sadly didn't even got to visit. So a small swimming pool is gonna have to be a must. I installed charcoal gray tinted glass canopy as protection against the sun. And also so that no one falls to their untimely- four-storey demise while getting out of the pool.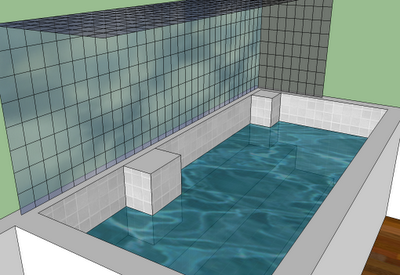 I also put another Ice chair here.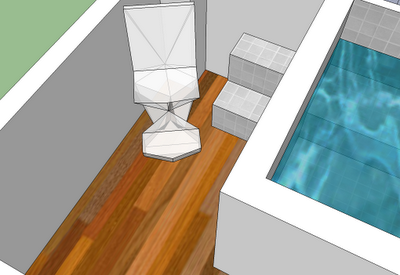 So that's it. That's the kind of house that would be ideal for me. Did you notice the windows? I hope you did. Did you also notice how the stair cases alone took almost half of the floor plan? Well, I have this thing. I just hate narrow stairs. They either have to be wide or with windows or both. It would take me a while to realize this house plan but I hope it won't be too long.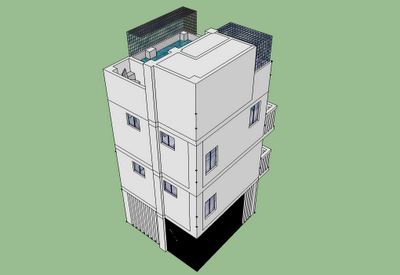 I know the floor plan is a bit more compact than most three-bedroom condo units. So you're probably going to ask me, why not just design a 3-bedroom condo unit or go buy one, right?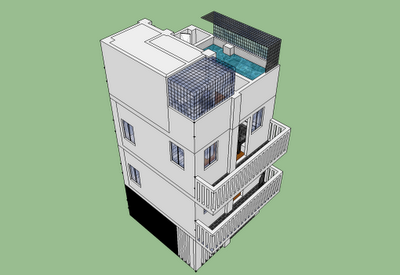 I think the vertical development akin to condominiums are nice but I personally can't do with it. I'm the kind of person who's always rushing in and out of the house and I've always been very, very impatient with elevators.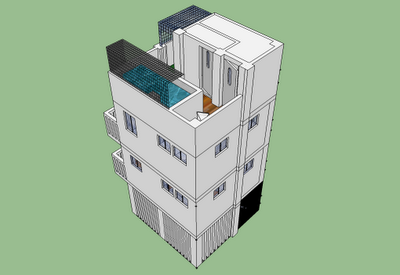 Plus I don't know what would happen if there's a black out and I'm left with no edible thing for survival and I can't go down the building. So there.
PS: I wanted it to be

DATEZ or Design Against The Elements and Zombies

but I guess I'll just make another one for that project. This was finished in 12 hours.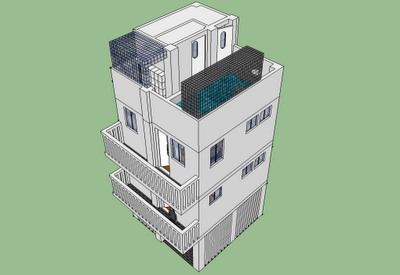 How 'bout you, what would your ideal home look like?