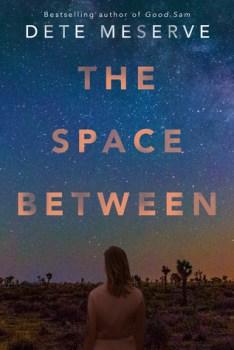 The Space Between by Dete Meserve
Published by Lake Union Publishing on July 24, 2018
Genres: Literature & Fiction, Mystery, Romance, Suspense, Thrillers, Women's Fiction
Pages: 293
Format: ARC
Goodreads
Buy on Amazon



The truth isn't what it seems in this stirring novel of suspense.

After presenting a major scientific breakthrough to a rapt audience across the country, renowned astronomer Sarah Mayfield returns home to a disturbing discovery. Her husband, Ben, a Los Angeles restaurateur, has disappeared, leaving behind an unexplained bank deposit of a million dollars, a loaded Glock in the nightstand, and a video security system that's been wiped clean. The only answers their son, Zack, can offer are the last words his father said to him: keep the doors locked and set the alarm.

Sarah's marriage was more troubled than anyone suspected, but now she is afraid that her husband's recent past could be darker than she dares to admit. Suspecting that nothing about Ben's vanishing is what it seems, Sarah must delve into the space between old memories, newfound fears, and misleading clues to piece together the mystery of her husband's disappearance—and find what she hopes in her heart is the truth.
I had heard of this author, Dete Meserve when I read and reviewed Perfectly Good Crime back in 2016 (see review HERE). Since I enjoyed that book, I was really looking forward to this new story, The Space Between, when I saw it available on NetGalley for review.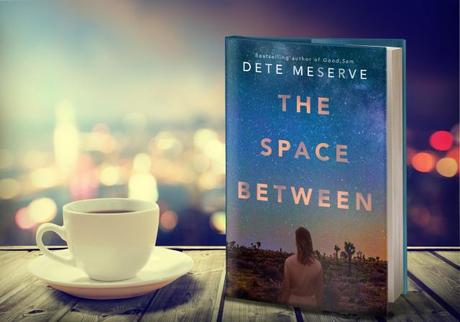 As this mystery/thriller starts out,  Sarah Mayfield is a renowned astronomer who returns home from sharing her major discovery in the solar system. She finds that nothing is the same – her husband, Ben is suddenly gone missing, the security camera footage has been erased and there's a loaded gun in her nightstand drawer.  Even more unexplainable is the fact that there's an unexplained bank deposit of one million dollars in their account. Their teenage son Zack, doesn't have any answers of his own of what may have happened, and can only say that the last thing his father told him was to keep the doors locked and set the alarm.  Sarah is in for a shocking twist of events that will change everything.  
Throughout the story, Sarah and Ben's less than perfect relationship is revealed. It makes us wonder whether her husband decided to leave on his own or whether there was something deeper going on. (It also caused us to wonder whether or not we could really trust Sarah.)  Sarah begins investigating what has happened to Ben and in doing so, she has to face the truth that her marriage was beginning to crumble and that she didn't know her husband as well as she thought she did. A lot of secrets have been kept between them.
The Space Between will keep readers guessing. The characters are very well developed and realistic. I started to feel like they could be real folks I might know.  The storyline is great and you will keep turning the pages until you have turned the last page. The flow to this story is a very good pace and the writing is solid.  Author Dete Meserve really knows how to put together a story by weaving question and mystery throughout.  Overall, The Space Between captured my attention from the first paragraph to that very last word and I would consider this a "one sitting" book. I can't wait to see what Dete Meserve writes next!
Pick up a paperback here: Amazon / Barnes & Noble / Target.  If you want an e-Book, you can pick it up here: Kindle / Google Books. If you prefer audiobook, you can pick it up here: Amazon.
---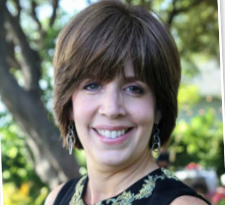 Dete Meserve is the award-winning, bestselling author of Good Sam and Perfectly Good Crime. Her this novel, The Space Between, will be published by Lake Union Publishing on July 24, 2018. When she's not writing, she is a film and television producer in Los Angeles and a partner and CEO of Wind Dancer Films. 
Meserve has been fascinated by the stars ever since she first saw the Milky Way arching overhead while on a camping trip when she was ten. Her grandmother worked at NASA's Manned Spacecraft Center (now Johnson Space Center) during the Mercury, Gemini, and Apollo programs and the photos she sent from those missions made Meserve curious about the moon and all the wonders in the night sky. 
Her love for the stars has followed her into her adult life where she is an executive producer of Ready Jet Go!, an award-winning astronomy and earth science series watched by millions of kids on PBSKids and around the globe. While working on the series, she began to see that there is a profound connection between all we are discovering in the realm of the stars, and the universe of emotions within ourselves. 
In her third novel, The Space Between, the stars offer an ideal backdrop for a story about rediscovering a love that's been right in front of us all along. In the universe, as in love, so many of our most important discoveries are made when we look past what seems to be true, when we find ways around our blind spots, and when we discover new ways to see through the darkness into the light.
Meserve lives in Los Angeles with her husband and three children—and a very good cat that rules them all.
---
I received an advanced readers digital copy of this book from NetGalley in exchange for my honest review. I was not required to provide a positive review and this affected neither my opinion of the book, nor the content of my review!! Thank you NetGalley!

~ ~ ~ ~ ~ ~ ~ ~ ~ ~ ~ ~ ~ ~ ~ ~ ~ ~

It would be great if you would stay connected with me!! You can follow me on Twitter @DebiL1611, like me on Facebook at 2014 and Beyond, circle me on Google+, follow me on Tumblr, Instagram and Bloglovin', subscribe on YouTube, or connect with me on LinkedIn and Pinterest.

Please make sure to visit my homepage and subscribe to my blog for more great posts on running, fitness and lifestyle topics as well as food, product, music and book reviews, and more!