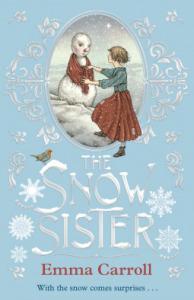 What's it all about?:
Ever since her sister, Agnes, died, Pearl has a tradition every time it snows. She makes a person out of snow. A snow sister. It makes Christmas feel a little less lonely.
On Christmas Eve, her father receives a letter about a long-lost relative's will. Is their luck about to change? In anticipation of a better Christmas, Pearl goes to beg credit at Mr Noble's grocery to get ingredients for a Christmas pudding. But she is refused, and chased down the street where she is hit by a hansom cab. The snow is falling so hard that they can't take her home. She'll have to stay at Flintfield Manor overnight, in a haunted room… Will Pearl make it home for Christmas?
This gorgeously evocative Victorian Christmas story is the perfect stocking filler for girls ages 9-12.
What did I think?:
If you're a fan of heart-warming, evocative middle grade fiction and haven't come across Emma Carroll yet, you are in for such a treat. I first came across Emma's writing with her debut novel, the wonderful Frost Hollow Hall which holds a very dear place in my heart and after reading her follow up books – The Girl Who Walked On Air and In Darkling Wood, I knew this was an author that I would read absolutely anything she wrote. The Snow Sister is one of her shorter pieces of fiction, at a mere 112 pages but it's such a hopeful and genuinely beautiful read that what it lacks in page numbers it fully makes up for in heart.
Set in the Victorian era at Christmas time it's the story of a little girl called Pearl and her family who are not only dirt poor but have suffered a terrible loss when Pearl's sister, Agnes passed away. Each Christmas, Pearl makes a "snow sister" outside in the street to make up for the hole that her sister's death has left in her life. This year however, it looks like their fortunes may be on the turn. Pearl's father has received a summons to Bath and has been told he is a beneficiary of a rich relation's will. Pearl is sent out to buy some ingredients for a special Christmas pudding so the family can celebrate their luck finally taking a turn for the better. While carrying out her mission, Pearl becomes embroiled in an exciting adventure and learns a valuable lesson as a result. Furthermore, she is delighted to discover that some things in this world can be more precious to a family than money.
I know it might seem quite odd that I read this book in summer – it's an absolutely perfect read for Christmas and, I'm sure, even more atmospheric if you read it when it's cold outside but I couldn't wait any longer to read this little book and is definitely something I would re-read when the weather decides to turn. It's a stunning, poignant story that brought tears to my eyes and filled me with joy at the same time, leaving me completely in awe of how Emma Carroll can create characters that you instantly fall in love with and think about for weeks after you finish the story. The Snow Sister is perfect for younger readers but I think adults can also get so much out of this story, either for themselves or if reading it to little ones. There are important messages and beautiful imagery that will touch your heart and give you that lovely, cosy feeling you only get with a really satisfying novel. This is another wonderful effort from Emma Carroll and it just makes me more excited to read her next book, Strange Star so look out for my review here on bibliobeth very very soon!
Would I recommend it?:
But of course!
Star rating (out of 5):

Advertisements