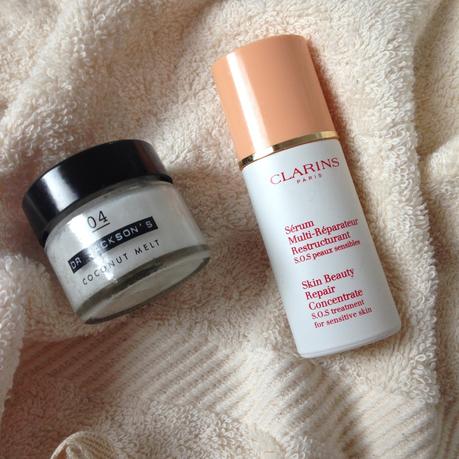 I mentioned in my post on Sunday that my skin has been a bit of a mess recently. I am putting it down to hormones as my skin all over has generally felt dryer and a little itchy.
At the beginning of last week I woke up with a really sore rash all over my face, it had little red bumps all over it and was very red and itchy.
My skin is usually tolerable to most things so I was a little shocked and as I can't take antihistamines at the moment I was a little stumped as to what to do.
I decided to just cleanse my face in Coconut Oil as its the only thing I had to hand that was simple yet effective.
I found this to work really well as it cleansed my skin without stripping it and it had no added ingredients that could irritate my skin.
I then followed it up with the Clarins Skin Beauty Repair Concentrate which is something I bought after seeing Caroline Hirons recommending it.
This is a lightweight oil/serum type product that contains lots of plant oils and is so gentle on the skin. I found just two drops of this morning and night really helped soothe my skin and keep it hydrated.
What I really love about this also is it is light enough to use in the day under moisturiser and doesn't make my oily t-zone any more oily.
The only downside is that it comes in a very small tube so as much as I want to use it all day everyday I am trying to keep it for when my skin is playing up.
After just 3 or 4 days of using these two skincare items, things calmed down and I am slowly introducing my usual products back in. I am still keeping things simple and I am having to treat my skin as more dehydrated/sensitive now rather than combination as it still a little red and feeling parched.
I can see myself sticking to using coconut oil or something similar as a cleanser. It is basic, it cleanses my skin thoroughly and its gentle. I have really enjoyed using it.
What are your go to skincare items for when your skin is acting up?