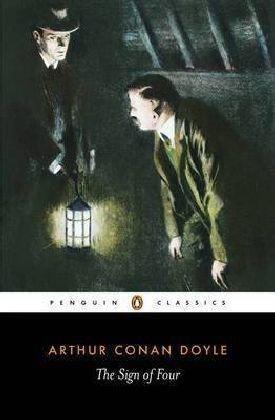 What's it all about?:
Yellow fog is swirling through the streets of London, and Sherlock Holmes himself is sitting in a cocaine-induced haze until the arrival of a distressed and beautiful young lady forces the great detective into action. Each year following the strange disappearance of her father, Miss Morstan has received a present of a rare and lustrous pearl. Now, on the day she is summoned to meet her anonymous benefactor, she consults Holmes and Watson.
What did I think?:
This is the second of the Sherlock Holmes stories written by Arthur Conan Doyle and opens shockingly on Sherlock having a whale of a time shooting up liquid cocaine. Admonished by Watson he admits that he uses it often as a cure for boredom, little has come in recently case-wise for Holmes, and he finds the drug keeps his mind active. Luckily he does not have to explain himself any further to a dumbfounded Watson as a potential case (and in the future, a wife for Watson!) walks in through the door. Mary Morstan's soldier father disappeared in mysterious circumstances years previously and since then every year Mary has received a rare pearl with no clue as to whom it was from or why it was being sent. This year however, a note has been sent with the pearl, proclaiming her as a "wronged woman" in that there were treasures owed to her with an unusual request to meet the note-writer so they could explain the situation further. Holmes and Watson accompany Mary to the meeting, and as with all of the Sherlock stories, the mystery only deepens and twists that little bit more.
It turns out that there is a very complex plot afoot involving stolen and buried treasure, a plan hatched up between four convicts (hence the title), a criminal with a wooden leg, a murder committed in a locked room, and the knowledge of some aboriginal tribesmen's poison dart techniques. All of this is maddening to Watson as usual, but Holmes manages to crack the case with his usual panache, highly developed skills of observation and deduction, and queer often random knowledge. Personally, I didn't enjoy this story as much as A Study in Scarlet, but I still appreciated the way the mystery is unravelled and then rolled back up in a nice little "Eureka, so THAT's what's going on!" moment for the reader. The author certainly does not shy away from complicated plots, and I often wonder how he managed to figure out such minute details so exactly. Another thing that I am finding with the Sherlock Holmes stories and which I am loving, is the feeling of learning a little something as well as being gripped by a fantastic story.
Would I recommend it?:
But of course!
Star rating (out of 5):