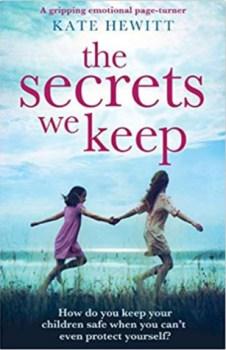 The Secrets We Keep Published by Bookouture on September 4, 2018
Pages: 356
Goodreads
Buy on Amazon



'Is her life as easy and effortless as it seems from the outside? Or is she feeling lonely, all by herself in that big house, an evening stretching out in front of her just as it is for me?'

When Tessa arrives at the little house by the lake with her two children Ben and Katherine, it is an escape. For all of them. Never mind that the rental house is a bit small – it's theirs for the summer. A place to hide…

Their isolation is disrupted when they meet the family from the big house next door. Three children Charlotte, Zoe and Max and their glamorous mother Rebecca – who seems absolutely determined to invite Tessa in to their lives.

But Rebecca is harbouring a dark secret of her own. One that will put not only her family at risk, but Tessa's too. And when she discovers she has no option but to leave her children for several weeks, Tessa feels like the only person she can trust.

Suddenly Tessa finds herself living a life she could only have dreamed of. Wealth, a large brood of children, and Rebecca's handsome husband Josh visiting at weekends.

But even as powerful bonds are forming between them, secrets have a way of catching up with people. And as the summer comes to an end, who will learn to love again and who will risk losing everything?

A gripping, twisty emotional page turner with a heartbreaking twist, for fans of Jodi Picoult, Emily Bleeker and Diane Chamberlain.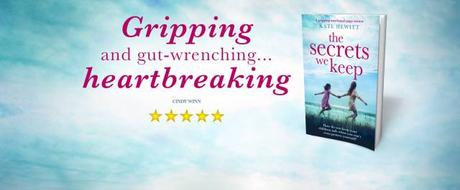 I have heard of Kate Hewitt before, I had seen her books out there, but I don't recall reading anything she's written…… until now. I also know I want to go back and read whatever else she's written after reading this one.  I'm talking about The Secrets We Keep by Kate Hewitt.
While I get the vibe that Ms. Hewitt is a contemporary romance writer, I felt that this book has an edge of suspense that takes readers through twists and turns in unraveling the secrets of each of the characters.
Readers meet Tessa and Rebecca, two mothers who come from very different worlds but end up as summer neighbors by the lake with their children. Tessa is grieving the loss of her mother and she's struggling to deal with her children.  She doesn't have a lot of money and she feels isolated. She takes her two children, Katherine and Ben, to the lake as her life with her husband is not progressing.
Rebecca, meanwhile, goes to the lake for the summer with her three children, Zoe, Max and Charlotte, as her life with her husband seems to be falling apart.  Rebecca is super rich, beautiful and seems to be effortlessly living her life and handling her children. Tessa and Rebecca are each jealous of how the other's life appears to be to them.
Ms. Hewitt writes the story using alternating chapters so that readers get the full point of view of each woman. I felt this technique worked really well as the women each shared their own mindset for the same events going on in their lives.  Both women are having trouble with their husbands and their relationships with them.  They develop a instant friendship and depend on each other.  Throughout this story, there is a fantastic build up as readers aren't quite sure what to expect or how to anticipate how things are going to end.
The Secrets We Keep explores the ways in which people are broken and reveals the doubts each of these women experiences as they question their parenting skills. The story brings readers to question exactly how a parent can care for her family if she cannot care for herself. I think the emotional struggles of both women shared in this story were very realistic and believable. Truth be told, I didn't expect the end to turn out the way it did, the last several chapters of this book gripped my attention to the very end.  
---
Kate is the USA Today-bsetselling author of many books of women's fiction and romance. Her latest releases are A Mother's Goodbye and A Vicarage Wedding. Under the name Katharine Swartz, she is the author of the Tales from Goswell books, a series of time-slip novels set in the village of Goswell.  
She likes to read women's fiction, mystery and thrillers, and historical novels. She particularly enjoys reading about well-drawn characters and avoids high-concept plots.  Having lived in both New York City and a tiny village on the windswept northwest coast of England, she now resides in a market town in Wales with her husband, five children, and an overly affectionate Golden Retriever.
Kate loves to hear from readers—visit her ~ WEBSITE  //  FACEBOOK  //  TWITTER 
---
I was provided with a complimentary electronic advanced reader copy of this book from Boukouture through NetGalley in exchange for my post.  I was not required to post a positive review, but have chosen to do so because it was such a great book!

~ ~ ~ ~ ~ ~ ~ ~ ~ ~ ~ ~ ~ ~ ~ ~ ~ ~

It would be great if you would stay connected with me!! You can follow me on Twitter @DebiL1611, like me on Facebook at 2014 and Beyond, circle me on Google+, follow me on Tumblr, Instagram and Bloglovin', subscribe on YouTube, or connect with me on LinkedIn and Pinterest.

Please make sure to visit my homepage and subscribe to my blog for more great posts on running, fitness and lifestyle topics as well as food, product, music and book reviews, and more!