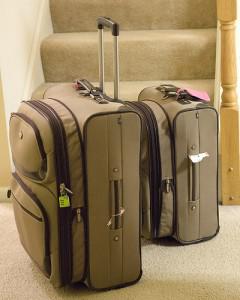 Eco-friendly tips aren't relegated to the home. There are many things you can do to make your next vacation a greener experience before you even open your garage door to leave. Put some of these suggestions to good use when you embark on your next getaway.
Before You Leave 
Pack as light as possible. Your 20 pounds might not seem like much, but it can add up. Heavier planes emit more harmful carbon into the air and burn more fuel.
Cancel delivery of your newspaper temporarily while you are away.
Adjust your thermostat accordingly for the weather before leaving. There is no need to heat or cool a house you won't be in.
Lower your hot water heater thermostat.
Unplug or unhook any unnecessary appliances and electrical items before leaving. (This includes things you wouldn't think of, like your garage door opener.)
Pack a nightlight if you need it, to avoid leaving a room light on.
In the Air
Choose a nonstop flight, when possible. Most major airports offer dozens of nonstop flights to domestic and international destinations.
Do a little research before choosing an airline. Most airlines now post their environmental policy on their websites.
Choose an airline with an onboard recycling program.
Select an electronic ticket option, rather than paper, when available.
Speak your mind. Air carriers welcome your feedback about their policies, or lack thereof. If you have an idea for improving their eco-friendliness, let them know.
At Your Hotel 
Choose hotels with eco-friendly credentials, such as those listed with the GHA (Green Hotels Association).
Let your hotel know in advance if you wish to have fresh towels and linens each day.
Be sure to turn off the TV, lights, heat, and/or AC when you leave your hotel each day.
Lessen waste by bringing toiletries and soap from home.
Take part in the hotel recycling program.
Take home any unused portions if you use the hotel toiletries to avoid waste.
Conserve water by keeping showers brief and turning the faucet off when brushing your teeth.
Bring along your own reusable water bottles and cups.
Let the hotel know how you feel about their environmental programs on the provided comment card.
Unplug any appliances when not in use.
When Visiting Attractions 
Choose public transportation when available.
Use ride-shares or hotel shuttles if they are offered.
Walk to your destination when it is close enough to do so. This is the perfect way to experience any location.
Take maps and brochures that you intend to use.
Avoid using disposable cameras.
Get some exercise and save money at the same time by renting a bike. Many cities now have a bike rental programs.
Choose the smallest rental car for your needs and consider a hybrid if you decide to rent a car.
Buy some snacks and meals from local farmers' markets.
Photo credit:  Some rights reserved by Mandy_Jansen