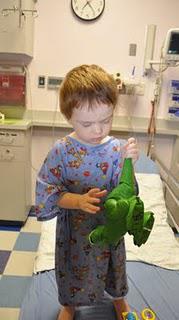 Before the procedure
Today has been a long day!  Why am I still up at midnight?  We woke up at 4:30am so we could take Blue Rock to the children's hospital for an endoscope and colonoscopy.  When we woke up, we found out Blue Rock was already awake.  He was playing in my sister's old room, where he's sleeping.  I guess he knew he needed to be up!  We arrived at the hospital before 6am, like they said to do.  We went to the back around 6:45am and they took him in the operating room for the endoscope and colonoscopy around 7:45am.
Blue Rock did very well.  I was worried about the anaesthesia since he has never had it before.  The doctors and nurses did a great job.  I was very impressed with the hospital, it was beautiful.  I told my husband that if anything was to ever happen to Blue Rock, I'd want him to be taken care of in Texas, not in Germany.  There is a HUGE difference in medical care and facilities.  Blue Rock has been to the children's ER in Germany, twice, and the surgery ER once.  And of course I gave birth in Germany.  Don't get me wrong, the Germans are in general very healthy people.  There are also some wonderful doctors there.  However, the facitilites are so much nicer in the States, at least in Texas.  Also the waiting rooms are more comfortable and they have food.  Where we are in Germany, there is either no food available for people waiting and not staying at the hospital, or it is very little and not very good.  The children's hospital we were at today had a great selection of food, including a Chic-Fil-A!  I mean, how awesome!!  Also, the nurses were so nice.  I loved how I could understand EVERYTHING they said.  They were also very good with my son, which is most important.  There were even toys to play with in the patient room and there were lots of books in the waiting room. The doctors, both the gastroenterologist who did the scopes and the anaesthesiologist were not from the US but their English was very clear.  When someone explains things in your native language, especially medical things, that makes things so much easier.  I felt like we were in good hands.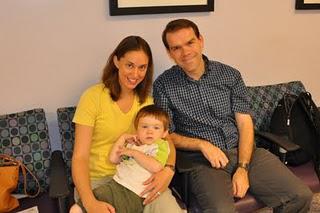 Waiting to go to the back room
The great news is that Blue Rock's esophagus and stomach look normal.  The only concern is the doctor saw a number of lymph nodes which he said is not too uncommon in young children, but also could be a sign of allergies.  We will know more once we get the results of the biopsy back.  The bad news is, we still do not know why he is vomiting so much and the full cause of his anemia. I'm starting to think part of the anemia is caused from a huge growth spurt he had over the last 2 months.  He grew 2.38 inches in 2 months.  I think the vomiting is most likely caused by food allergies. I will probably go back to keeping a food diary and writing down everytime he throws-up.
I hated that my two year old had to go through these procedures. But as his parents, we felt this was the next best step to take given our situation.  If he was not so anemic, we probably would have waited on this.  We are just glad they didn't find something awful.  Thank you all again for keeping us in your prayers.  They were not able to check for mechanical issues because of the anesthesia.  The best test for that would probably be the barium test, which is what they originally wanted to do first until they found out he was so anemic. I think our next step will probably be allergy testing since we are not here long enough to get the barium test done.  Please continue to say a prayer for us when you think about it. Thanks again for all the prayers.  God does listen and we feel so blessed to have our son prayed over all across the world these past few days.