'Twas my mom's birthday and for the first time since we started blogging, we finally went back to the default buffet ever since I arrived on this planet, Saisaki!
I have always had the highest regard for the Japanese food at Saisaki because they have a great selection of sushi, and I love sushi. Growing up, this place was, for me, the expensivest of the expensive, the fanciest of the fancy buffets for its cost and very reliable quality. I even have fond memories of stuffing myself at Saisaki back when it was partly called Triple V, and I even recall being granted the kid's discount for being under four feet tall. No matter what buffet comes along, like Circles, Vikings, Buffet 101 and whatever else, no one will ever beat the importance this wonderful establishment holds in my heart. You see, I've celebrated more birthdays, anniversaries, and graduations here than I can count, and not just my own. I still consider the Glorietta (or Quad) branch to be new, and I recall the older, original branch to be the dimly lit, cozy one with a Coronado bowling alley underneath it. I was too young to know where it was exactly, but I know it was in Makati too. Even if it has become the relatively cheap buffet, and even if the quality has deteriorated a bit, I will always view Saisaki the same way. Saisaki is importance, Saisaki is celebration, and Saisaki is happiness.
In this day and age, what is the Saisaki experience like?
The Buffet: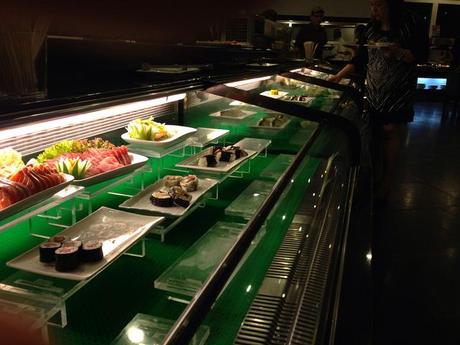 Here, you can see my mom getting her food in the sushi area. Indubitably, my favorite part of the buffet. It is sad to see a lot of empty trays at only 8 pm, but all the basics are available. Okay, Saisaki, you don't need to spoil me. This will do fine.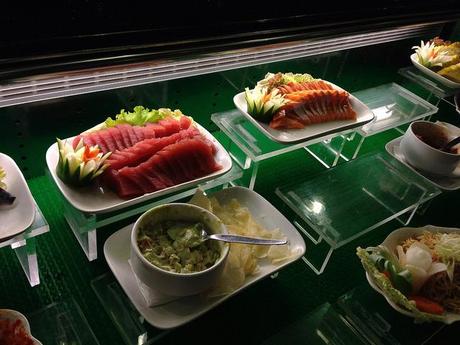 Glorious raw fish. Saisaki is still kicking ass in this department. Decent unlimited tuna and salmon. This alone makes the price of admission worth it. Another great thing about the sushi in this buffet is that it is the only one I know of that serves Uni, or sea urchin. It is the slimy, seafoody brown stuff that is ever so addictive. I consider it to be the sushi equivalent of truffle sauce. It always tastes strange, you never get used to it, and yet it's so intoxicatingly good that you keep coming back for it. Problem with Saisaki, though, is that it is only available 20% of the time, and this day did not have such luck. :(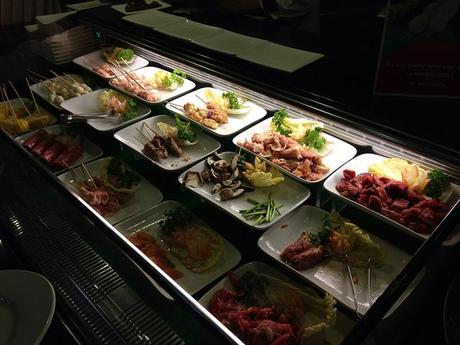 Next to the sushi area, you'll find a bunch of grilled stuff. I never pay much attention to this place.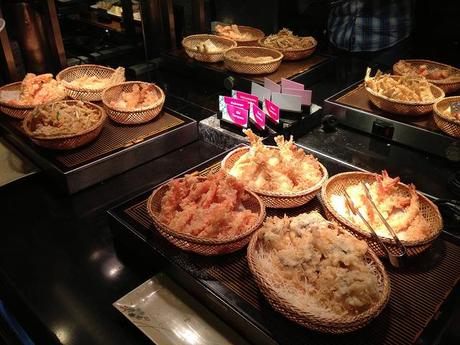 The cooked stuff. There won't be much focus on these, because I don't put much focus on these when I grab food. The best of the cooked food are the tempura (though, I'm not much of a fan), the chawan mushi (custardy thing), the zaru soba, and the breaded tofu. My heart broke a little when I realized the tofu was nowhere to be found, again. It has been very elusive during my Saisaki visits in the recent years. They are breaded thick discs of tofu that are crispy on the outside and very soft on the inside. It tastes great with a sweet-ish sauce you pour over it. The only thing it ever lacks is existence in this buffet.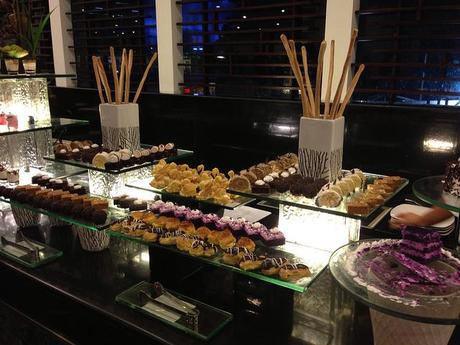 The best of the desserts are the cream puffs, leche flan, and the creme brulee. Of the three, only cream puffs are available today. The chocolate fountain has also been replaced with a melted chocolate bowl. That's alright, I guess. You can also get some reliable ice cream if that's what you fancy. I usually don't, because it's quite plain.
What we ate:
We didn't and couldn't eat very much tonight after our Yabu taste session lunch where we did a hell of a lot more than just taste.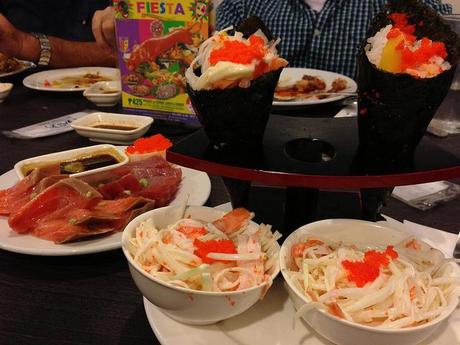 I always start with sushi and sashimi. The sashimi was good, and we also ordered kani salad and some california temakis.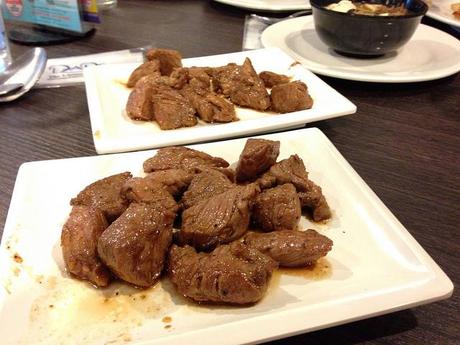 The Saisaki steak is something that used to be a part of the buffet, but is now only available by request. It is like a Japanese version of salpicao. This used to be angus beef, but I'm not sure if it still is. What we ordered that day turned out to be tough and well-done. I usually order it medium-rare and it is usually quite good. One other thing you could order is beef sashimi. I've had it a couple of times, and it was always available to order. Try it out if you've ever wondered what raw beef tastes like! (I've always wondered what raw everything tastes like) It's pretty much just raw strips of beef topped with an also raw quail egg, and some pieces of ginger on the side. I enjoy many things raw-ish, and it was interesting to try, but as for the taste, I'd just rather go with rare saisaki steak instead of outright raw meat. I have to remind you, though, that there is danger in consuming uncooked and undercooked meat so please don't sue me if you decide to undertake that particular culinary adventure. Haha.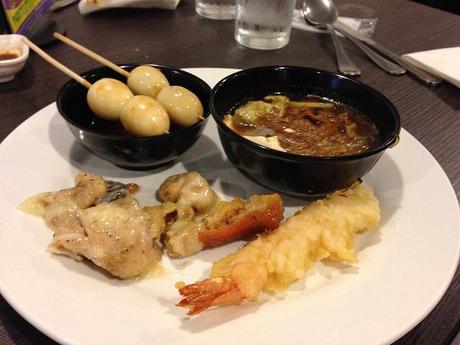 The cooked food was okay, as usual. Instead of my usual cold zaru soba, I got some warm, sweet sukiyaki. The only thing I don't like about sukiyaki is the noodles so I usually order one without the noodles. Unfortunately the sukiyaki has changed, too. It used to be a lot of meat, some shitake mushrooms and carrots. Now, it's some meat, a lot of chop suey, and no mushrooms. Not likely getting that again.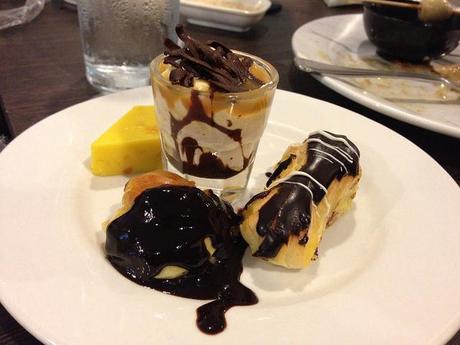 The only thing I really enjoyed was the chocolate-smothered cream puff.
Price:  Lunch (Monday-Thursday) - Php525.00, (Friday) - Php625.00.  Dinner (Monday-Friday) - Php625.00.  Lunch and Dinner (Saturday, Sunday, Holidays) - Php655.00,  Php265.00 for children below 4 ft.
They've taken cue from Vikings and have a birthday promo until November 15 where you can eat for free on your birthday or within three days before or after, as long as you are with one paying adult. Not bad!
Verdict: Okay The mix of disappointments and enjoyment encountered in this dinner led us to this verdict, which is an equivalent of 2.5/5. This is actually quite perfect because in order to assist us in the difficult task of reviewing buffets, I have devised a system called...
THE SAISAKI SCALE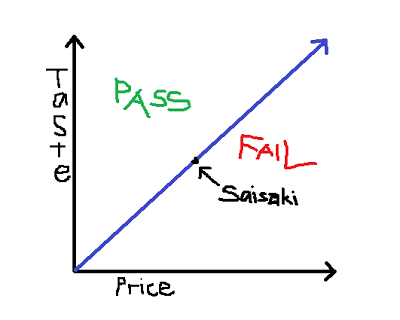 As expertly presented in the above diagram, I am going to use Saisaki as the benchmark of all buffet reviews in the future. They don't all cost the same but we compare it like so: If a buffet costs twice as much as Saisaki, it needs to be twice as good. If it is less than twice as good, it fails the Saisaki scale. If it is better, it passes the Saisaki scale. In short, do I feel "Sana nagSaisaki nalang ako"? Got it? Good! Back to the festivities! :)
It was a memorable, fun dinner as usual at Saisaki. It's hard to believe Alvie and I were going to eat in Vikings, then Heat over the next two days. I don't know if I should feel sad or happy. #FirstWorldProblems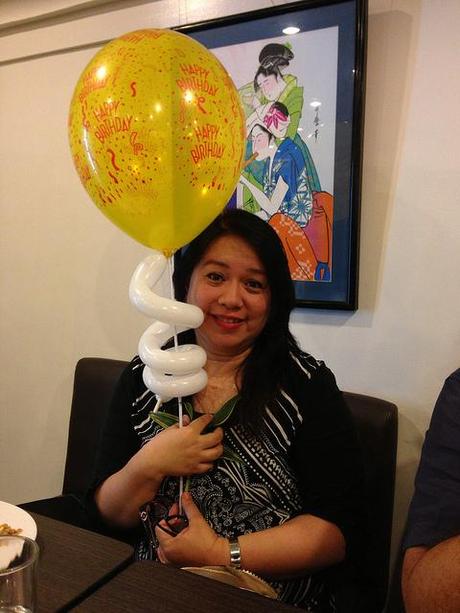 Saisaki is still happiness for me. Happy Birthday, Ma!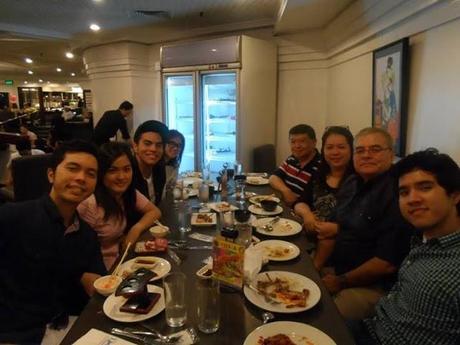 Love Saisaki? Hate it? Let me know by commenting below, or just tweet me!



Saisaki Scale Challengers:
HEAT: Passing
SAISAKI
2/F, Glorietta 3, Ayala Ave.
Ayala Center, Makati City
(02) 892-8897 to 98
Operating Hours:
11:00 am - 2:00 pm
6:00 pm - 10:00 pm
Facebook: Dads Saisaki Kamayan
Website: http://www.kamayansaisakidads.com/

View Larger Map