Hi girlies,
If your a part of the blogging world you may have heard the exciting news that Urban Decay are releasing the third edition of their highly successful Naked palettes.
This one, judging from the sneak peek snaps that have been leaked, looks just as fab and contains just as many variations of finishes which is always great!
My growing obsession with rose gold can now be transferred into my makeup case as this palette actually contains 12 never before released rose gold hued natural colours, perfect for both day and night.
And finally not to tease you any further, here it is...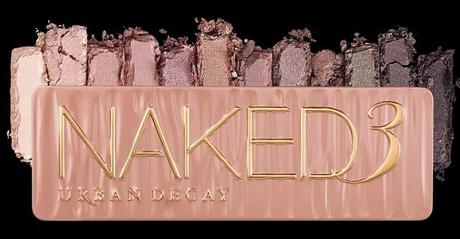 The fact that the case is even rose gold excites me far too much!! Naked 3 will include a new double-ended Good Karma shadow, a blending brush and the infamous eyeshadow Primer Potion.

So what exactly are the above shades going to look like I hear you ask, well I've got it covered, the full shade list is as follows;

  Strange - Very light pink, almost beige/nude  (matte) Dust - Light iced pink (metallic)Burnout - Warm toned pink (satin)Limit -  Dusty rose (matte)Buzz -  pale rose gold (metallic)Trick - Warm pink, almost peach (metallic)Nooner - Medium pink brown (matte)Liar - Cool toned rose gold (metallic)Factory - Pink toned mauve (shimmer)Mugshot - Metallic taupe with a purplish tint (metallic) Darkside - Deepest taupe (matte)Blackheart - Almost black with red glitter accents (glitter) And there you have it folks, the closest we can get to the latest UD palette until it reaches our shores, the good news is we can have in it time for it to be under our Christmas tree as UD have promised it will be realised early December, fingers crossed! For the latest news on this palettes release and other UD products sign up online at http://www.urbandecay.com/