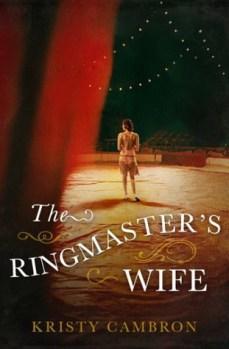 The Ringmaster's Wife Published by Harpercollins Christian Pub on June 7th 2016
Genres: Christian, Historical, Religious
Pages: 368
Format: Paperback
Goodreads


An ounce of courage.  A leap of faith.  Together, they propel two young women to chase a new life—one that's reimagined from what they might have become.

In turn-of-the-century America, a young girl dreams of a world that stretches beyond the confi nes of a quiet life on the family farm. With little more than her wit and a cigar box of treasures, Mable steps away from all she knows, seeking the limitless marvels of the Chicago World's Fair. There, a chance encounter triggers her destiny—a life with a famed showman by the name of John Ringling.

A quarter of a century later, Lady Rosamund Easling boards a ship to America as a last adventure before her arranged marriage. There, the twenties are roaring, and the rich and famous gather at opulent, Gatsby-esque parties. The Jazz Age has arrived, and with it, the golden era of the American circus, whose queen is none other than the enigmatic Mable Ringling.

When Rosamund's path crosses with Mable's and the Ringlings' glittering world, she makes the life-altering decision to leave behind a comfortable future of estates and propriety, choosing instead the nomadic life of a trick rider in the Ringling Brothers' circus.

A novel that is at once captivating, deeply poignant, and swirling with exquisite historical details of a bygone world, The Ringmaster's Wife will escort readers into the center ring, with its bright lights, exotic animals, and a dazzling performance that can only be described as the Greatest Show on Earth!
I just want to say this – did you know I lived in Sarasota, Florida when you asked me to read this book? Probably not but you know I was totally interested the very second I saw this book about the circus! I couldn't wait to get it and I couldn't wait to read it! And let me start out by saying I was not disappointed at all!
The circus never ceases to amaze me – every time I've gone I catch myself trying to see which show was up next or how they were setting up and that probably explains why I liked The Ringmaster's Wife by Kristy Cambron so much. The story itself goes behind the scenes of "the greatest show on earth".
The story centers around Mable Ringling who has a chance meeting with showman, John Ringling at the Chicago World's Fair and that chance meeting triggers her destiny – marriage to John and life with him as one of the founders of the Ringling Brothers Circus. Mable is a very kind woman and she touches the lives of people around her as well. When the circus buys a beautiful horse from Rosamund Easling's father, she travels with the horse to the circus and takes a job as a trick rider.
Colin Keary is the man who runs the "day to day" operations of the Ringling Brothers Circus and he takes Rosamund under his care to help teach her the ropes. Rosamund finds herself ready to share her love and her heart with Colin but then suffers a tragic accident.  Mable Ringling encourages Rosamund and through her kindness, she is able to find her way back to living her life and fulfilling her dreams.
It is really great how this book is written based on real people and I found that the author did a great job of making them come to life for readers. The descriptions of the bright lights, the exotic animals and the Big Top felt very authentic, and her description of the Ringling's estate, the Ca'D'Zan, was awesome!  I loved Ms. Cambron's attention to details in this book. This was a very interesting (and great) read, and I'd highly recommend it to anyone who has any interest in the circus!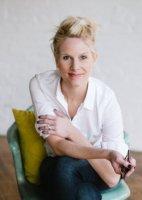 Kristy Cambron has a background in art and design, but she fancies life as a vintage-inspired storyteller. She is the author of The Ringmaster's Wife, named to Publishers Weekly Spring 2016 Religion & Spirituality TOP 10 and set for release on June 7, 2016 from HarperCollins Christian Publishing (Thomas Nelson). Her novels have been named to Library Journal Reviews' Best Books and RT Reviewers' Choice Awards Best lists, and received a 2015 INSPY Awards nomination for best debut novel.
Kristy is a Speaker and Design Manager at TheGROVEstory.com, and holds a degree in Art History from Indiana University. She lives in Indiana with her husband and three sons, where she can probably be bribed with a coconut mocha latte and a good read.
You can catch Kristy on her Official Website HERE, or connect with her on Facebook, Twitter, Instagram or Pinterest!
I received an advanced copy of this book from the publisher in exchange for this review. All opinions are my own, and a favorable review was not required. Look for The Ringmaster's Wife on or around June 6, or pre-order your copy now on Amazon HERE!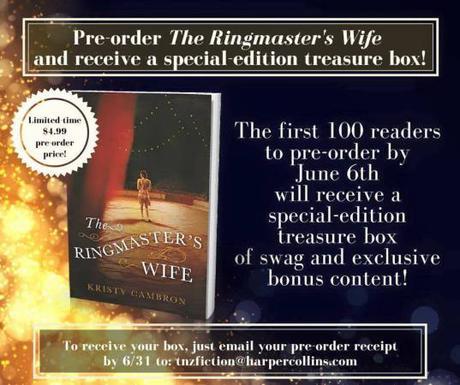 ~ ~ ~ ~ ~ ~ ~ ~ ~ ~ ~ ~ ~ ~ ~ ~ ~ ~

It would be great if you would stay connected with me!! You can follow me on Twitter @DebiL1611, like me on Facebook at 2014 and Beyond, circle me on Google+, follow me on Tumblr, Instagram and Bloglovin', subscribe on YouTube, or connect with me on LinkedIn and Pinterest.

Please make sure to visit my homepage and subscribe to my blog for more great posts on running, fitness and lifestyle topics as well as food, product, music and book reviews, and more!