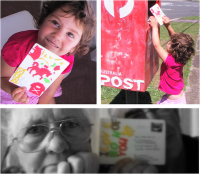 It's no secret that on Thanksgiving Day I posted a story about how my daughters made
'thank you' cards
 to celebrate the people who made them grateful; thanks for spaghetti Nana, for being my friend, love-you-Dad and so on.  In that post I wondered whether we could send one through the mail to her grandparents... well we did; and it made it!
Mimi made a farmyard picture for my parents who live on a farm.  When I asked her what she wanted to write (in stick on foam-letters) on the back, she started a long lecture about how she wanted to thank Granddad for chasing her around the house when she steals his hat, and Grandma for reading books, and, and... after getting her to draw breath, I explained there was a limited number of sticker-letters and even less space to stick them.
"I love you both" was the message she came up with.  So I picked out the letters, she stuck them on and we walked up to the local post-box.  I was dubious about the quality of the glue on the stickers; but most of them stayed put in their journey cross country.  I really hope the 'T' didn't get stuck in a million dollar machine and some poor post-person wasn't cursing us too badly when they had to stay back all night trying to get it up and running again before the pre-Christmas rush?!?!
Mimi and I were thrilled to get an email with a photo enclosed, thanking her for the nice surprise and holding the postcard up for inspection (they used the camera on their computer and clearly it's serious business!)
So if you're trying to think of something different for this years' Christmas cards; what about a foamy postcard?  Whichever way you go - be sure to include all your love.