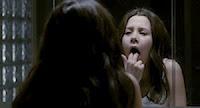 Since Sam Rami is well-known for making badass horror movies, I was keeping an eye on his new and upcoming The Possession movie. Now a new clip called 'Mouth' has been released for this movie. So, yeah... well, it's creepy alright.
The Possession has a strange story. It goes around a little girl called Emi. She gets obssesd by a powerful demon and tries to do some creepy stuff. This small clip will give you a sneak peek at the horror on this movie.Best part about The Possession is that it's based on a true story. Could this get any better?
The Possession arrives in theaters on August 31st.